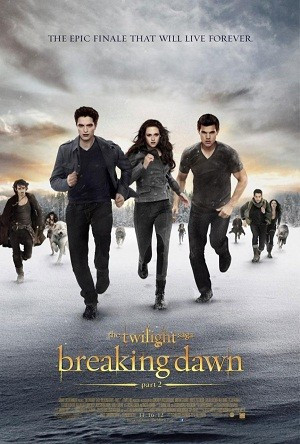 The holiday weekend started strongly for the US box-office, with the vampiric saga that is Breaking Dawn - Part 2, the finale to the hugely popular Twilight series of films, heading straight to the top. A report by The Hollywood Reporter states the Kristen Stewart, Robert Pattinson and Taylor Lautner-starrer, grossed £27m for the weekend, beating the franchise's own second weekend record. The film has already earned more than £142m domestically and £360m worldwide.
Second on the list is Daniel Craig as James Bond. The British secret agent is celebrating his 50th anniversary but any thoughts of retirement are premature, with the film (also starring Judi Dench and Javier Bardem) bringing in £22.5m over the three days, to add to the record £56m it grossed on its opening weekend in the United States. So far, the film has picked up a little below £140m in the US markets. Lincoln, starring Daniel Day-Lewis and Sally Field was third, with £16m for the opening weekend alone and a domestic total of £39m.
Rise of the Guardians and Ang Lee's larger than life cinematic version of Yann Martel's Life of Pi rounded out the top five, the latter with £14m for a three-day gross and also breaking the record for highest non-franchise opening in India (£2.7m), where the main characters and story of the novel is based.
Meanwhile, the cast of Breaking Dawn - Part 2 are hoping life beyond roles as vampires will include bigger and more diverse roles; Pattinson's may be a little too different though. The 26 year old Brit, who is in a well-publicised relationship with Twilight co-star Kristen Stewart, claimed an interest, in jest, in making a pornographic version of the Twilight franchise.
His girlfriend, meanwhile, admitted an interest in trying her hand in the Indian film industry, Bollywood.
"If someone offers me a good script, I would love to work in a Bollywood film," she said, "I would love to work with Hrithik Roshan. He is such a wonderful actor and so good-looking. In fact, if I have a boy, I would want him to look like Hrithik Roshan, but with Rob's eyes."
The American also spoke on her character in the film, Bella Swann, and what she claimed were "strong maternal instincts" when faced with her character's daughter, Renesmee.
"That is something I'm going to miss the most. I did not realise I had such a strong maternal instinct until I played mother to Mackenzie. It was surreal," she said, "Twilight changed my daily life instantly. I was no one. I was a kid. I had just turned 18. The day the movie came out in the tabloids, the next day there were images of me."
To celebrate the end of the Twilight series, check out these photographs of Pattinson and Stewart over the years...