Tyron Woodley asks Conor McGregor to fight or 'shut his mouth'
Woodley and McGregor had a confrontation ahead of their respective fights at UFC 205.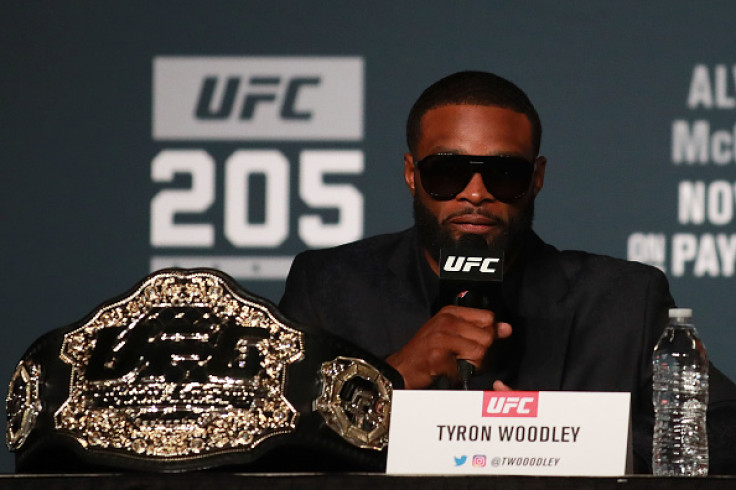 Tyron Woodley has issued a 'come and get me' plea to Conor McGregor after admitting that he is willing to fight him anywhere even if it is in the Irishman's backyard in Dublin.
The duo had a confrontation ahead of the UFC 205 event at Madison Square Garden, when McGregor was taking on Eddie Alvarez for the lightweight title, while Woodley was defending his welterweight title against Stephen Thompson. Both of them came out victors in their respective fights and got into a war words on Twitter, which saw the Irishman call the American a 'bi***' which did not go well with the Ferguson-born fighter.
The 34-year-old made it clear that he has no beef with McGregor but has warned the Irishman about his expletive laden rant, and asked him to put his mouth where the money is and make the fight happen. Woodley also gave a description about the welterweight division stating that he is in for a surprise as the level is completely different from fighting in the lightweight or featherweight division against the likes of Nate Diaz.
"I want you guys to realise this about me. I'm not one of those guys that's trying to position myself off Conor. I actually ain't got no beef with Conor, y'know. He's doing his thing, he's getting what he wants to get out of the game, and I'm getting what I want to get out of the game," Woodley said via video on his official YouTube channel.
"If Conor wants it, he can get it. He knows how to get in touch with Dana, he knows how to get the contracts set. He really don't want to fight. I'm not saying he should want to fight, because I'm not a little dude. I ain't Nate Diaz.
"If him and his coach John Kavanagh and everybody think that Conor can do well against me and they gas this dude up - you know, he's a dope fighter but there's levels to this.
"When you start going up, it's like me going up to 205 and challenging guys at that weight. When you come up to this weight brother, it's real power, it's real people that will put real hands on you, that'll put you down to the canvas and you will not get up unless I let you up," the welterweight champion explained.
"We can do it in Ireland, Dublin, we can do it in the back of White Castle, I don't care. But just know, I ain't that guy. I don't like to try and act overly hood or overly ghetto, a million hood stripes, but where I'm from you don't call me a bitch, number one. Number two, you don't fake like you're about that life. If you want to scrap, if you want to make this money, let's do it. If you don't, shut your mouth. Just do your thing."
© Copyright IBTimes 2023. All rights reserved.