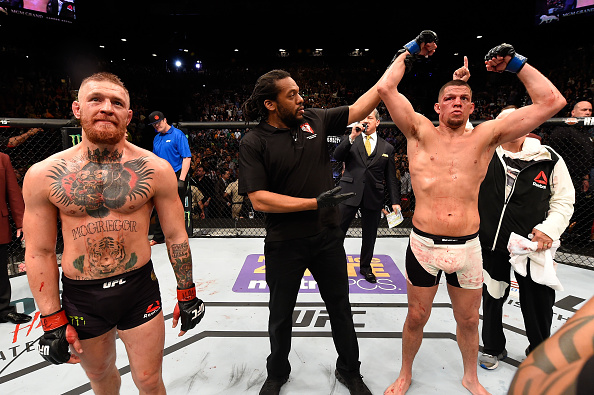 Even as organisers of the American Ultimate Fighting Championship (UFC) 200 fight between Nate Diaz and Conor McGregor have called off the event, it seems like the former is keen on taking down his opponent. Diaz has said that "he is going on vacation, for real", if the fight between him and McGregor does not pan out.
So does this suggest that the 31-year-old could still take on his Irish rival in a welterweight clash? The two were scheduled to fight in Las Vegas on July 9 in a rematch of UFC 196, which was reportedly cancelled due to McGregor's reluctance to promote the event.
Though the Irishman was pulled out of the clash, his 27-year-old was keen to get revenge for his first loss of his career only for McGregor to post a bizarre tweet claiming he was retiring from the sport.
Diaz, who is currently scheduled as the main card of the event, has revealed that he only wants to face McGregor. "I just came to fight Conor McGregor. I don't really have much interest in anyone else, I don't have any interest in fighting at all. But if that's what we're going to do, we're going to do it," he said according to Irishmirror.
"I didn't ask for the fight, but he asked for it and he wanted it. If that ain't gonna happen, I'm going on a vacation for real."
The organisers of the UFC 200 have confirmed that they are seeking a replacement for McGregor – after giving him "every opportunity in the world" to appear at a promotional event – with UFC president Dana White insisting that they are not willing to bend the rules to suit McGregor.
Nonetheless, Diaz has confirmed he has no problems if McGregor is rebooked for UFC 200. He said, "He's got a lot of catching up to do, so there ain't no time for this s**t. I've been dodging all this for years, I've been in trouble for it. I understand it's all good, let him do his thing, get his train on and then get ready to fight, it's all good with me."