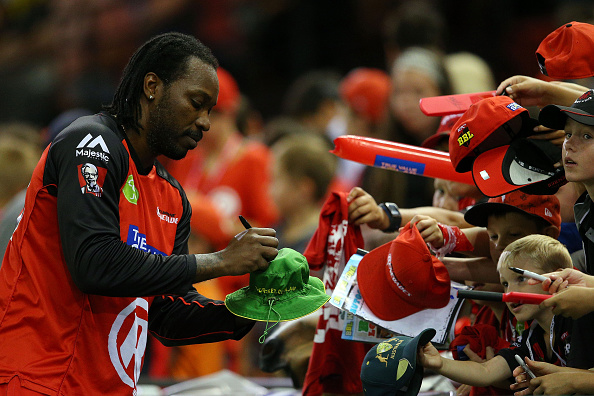 Cricket Australia chief James Sutherland has confirmed that they have no plans to ban West Indies star Chris Gayle from the T20 Big Bash League. The left-hander sparked controversy last season when he told reporter Mel McLauglin 'don't blush baby' during an interview while he was with the Melbourne Renegades.
Despite the hype surrounding the incident, Sutherland told reporters that with the exception of match-fixers every cricketer in the world is welcome to play in the Big Bash League.
"No I think it's an issue for the clubs themselves. No matter what Cricket Australia thought of the Gayle incident at management level, board level - I think you're on a slippery slope if you start making judgements on players who could or shouldn't be playing in the Big Bash League or in our domestic competitions."
"Because, when does that ever end? My view unless there's a very, very strong reason along the lines of anti-corruption, then it's difficult for us to be making those judgments. I'm not saying that it wouldn't happen but my judgement is that it's not appropriate, it's about teams themselves to make the calls."
Gayle's comments caused outrage in cricketing circles with Cricket Australia the first to speak out against the batting superstar. In fact, there were calls for Gayle to be banned from the competition with a fine of $10,000 (£5,352).
The 36-year-old is a big T20 draw and takes part in various leagues around the world. He was part of the West Indies squad which won a record second ICC T20 World Cup trophy in India last month.
Though he was not consistent with the bat, he did light up the tournament scoring the only century of the ICC T20 World Cup 2016, smashing a 48-ball 100 against England to become the first batsman to score two World Cup T20 hundreds.