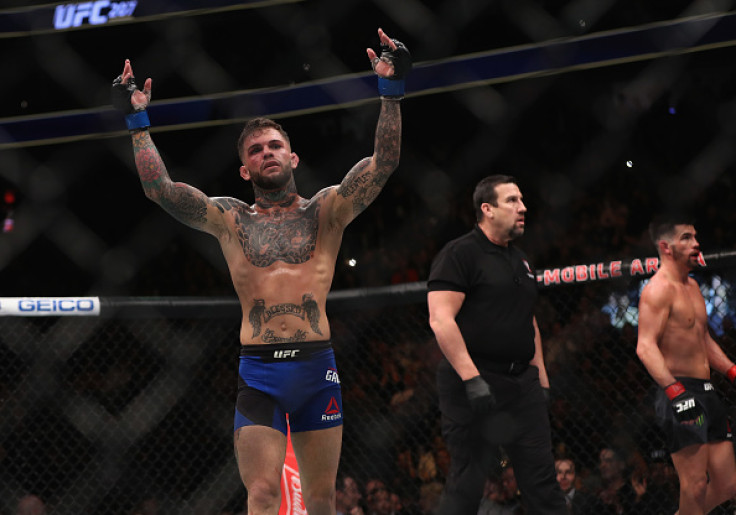 Current bantamweight champion Cody Garbrandt does not believe Dominick Cruz will be the same again after beating him at UFC 207 in December 2016.
The highly anticipated bout – which had a lot of heated confrontations in the buildup – saw Cruz suffer just the second loss of his MMA career as Garbrandt dominated to win via unanimous decision.
Following his win, Garbrandt was willing to grant the former champion an immediate rematch, however, Cruz declined, which surprised the 25-year-old.
"I was very surprised with Dominick, all the sh*t talking he did," Garbrandt said as quoted on MMAFighting. "What he said he was gonna do to me, he wasn't able to do that, so I was just waiting for him to get the rematch."
"Give him the rematch, give him the respect for being the most dominant bantamweight fighter in the world. If I talked a lot of sh*t and kid comes and beats me up like that, I'd at least try again, because I have a fighter heart.
"I feel like Dominick doesn't [have a fighter's heart]. I think I broke Dominick in that fight and truly don't think Dominick will be the same."
Garbrandt had been petitioning for a rematch ever since his victory and Cruz – who is still continuing his job as a FOX and UFC analyst – believes he knows why the champion is so willing to face him again.
"I expect him to be mad at me from that camp," the 31-year-old told TMZ in January. "I embarrassed him pretty good leading up to it with the things that I said which where the honest truth and he proved they were the truth by getting mad."
"But more than anything he keeps saying, 'I'm at the top' and 'rematch, rematch.' You've got the title. Why are you asking to rematch me? He knows that I am better than him. He wants the rematch because I'm the only fight that really raises the bar in this division."
Garbrandt is now preparing to defend his title at The Ultimate Fighter 25 Finale against T.J. Dillashaw, who also fought at UFC 207, cementing his spot as the number one contender after a dominant win over John Lineker.
The two have history as they were former teammates at Team Alpha Male before Dillashaw left in 2015.
"That's fine," Garbrandt added. "I'm very content with fighting T.J. I'm happy to fight T.J. T.J.'s not a good person. He's not a good person. He's kind of a generic version of Dominick Cruz."