Tony Ferguson believes money has made Conor McGregor "soft" and has labelled the upcoming interim lightweight title fight between him and Khabib Nurmagomedov at UFC 209 as the real fight for the belt.
The Irishman is the Ultimate Fighting Championship (UFC) men's lightweight champion and could defend the title when he makes his return against the winner from the UFC 209 event's main fight. "The Notorious" has never defended any title thus far, which has seen McGregor being labelled a paper champion who chooses his opponents.
The Dublin native is currently on a break from fighting as he is expecting his first child with long-term girlfriend Dee Devlin. It is unclear when he will return, but Dana White confirmed that he still has four fights remaining on his current contract with UFC.
"Money made McGregor soft," Ferguson told ESPN. "I say 'McNuggets,' because he's made of that fake s**t, that pink stuff from McDonalds that nobody wants.
"Do I get a little pissed [I'm asked about him]? Yeah, I get a little heated. But the real belt is between myself and Khabib. He's 24-0. Dude, I forget how many wins I have. I don't even care anymore. Those numbers keep racking up."
Ferguson also threw light on talks about a potential fight between McGregor and boxing legend Floyd Mayweather. The duo have been in a verbal feud for months talking about what each would do if given an opportunity, but no deal has been signed yet.
The UFC president has made it clear that the Irishman has to fulfil his contractual duties to the sport before the mega-money fight is allowed. Veteran boxing coach Freddie Roach revealed recently that the fight "looks likely to happen" after his conversation with the five-division boxing world champion.
The California-based lightweight title contender gave his prediction about how the fight between McGregor and Mayweather will go, before revealing his plan to put down the Irishman if they ever came face-to-face in the octagon.
"You know what, everybody's got a shot. It's a fighter's chance and anybody can get knocked out on any single day. But this isn't four-oz gloves, this is a completely different sport. When you get hit you can't take em down like he tried to do with Nate Diaz," Ferguson said.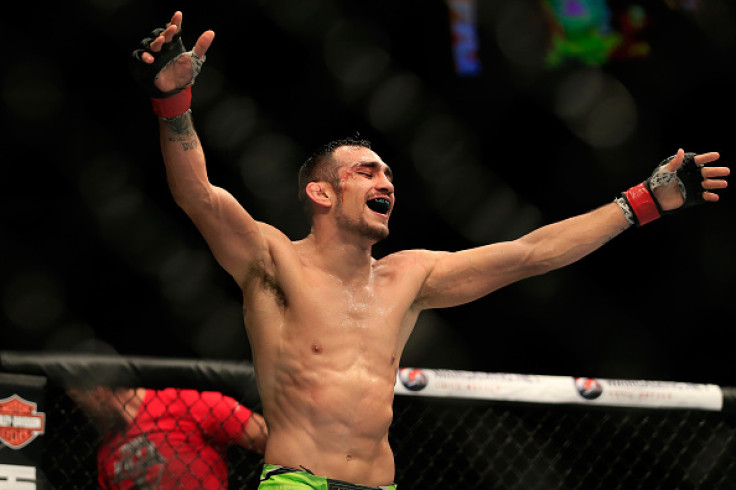 "If Conor McGregor and myself were ever to go toe-to-toe I'd put him down, hard. I'd put him down with snap-jitsu, he would go to snapdown city and that would just be the end of Conor."