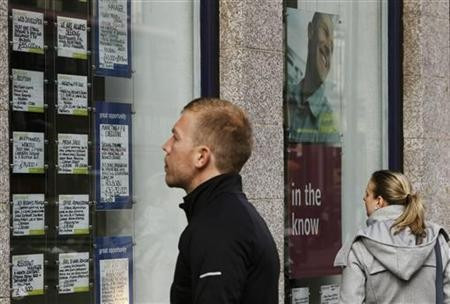 The number of Britons starting a full-time job lifted to a 19-month high in November, according to an employment index.
KPMG LLP and the Recruitment and Employment Confederation said their monthly index of permanent job placements rose by a point to 56 across the month, while temporary postings saw their strongest increase since March 2011.
"Recruiters are reporting another monthly increase in the number of people they have placed into permanent and temporary jobs and it's beginning to look like an accelerating trend," said Kevin Green, Recruitment and Employment Confederation chief executive.
"Employer confidence is genuinely bouncing back with businesses feeling more encouraged to hire, which bodes well for the New Year."
Bernard Brown, partner and head of business services at KPMG, said the "negative outlook has been replaced by cautious optimism".
"But before anyone gets the bunting out, the good news must be seen in the context of a fragile economy that remains susceptible to future shocks," said Brown.
"Recovery is by no means certain and we need a few more months like this to suggest that emerging trends are translating into a sustained period of growth in employment."
The report also said that overall job vacancies were up to a 19-month high, as private sector roles picked up the slack left behind by a retreating public sector.
Official figures show unemployment falling.
In the three months to the end of September, employment hit a rate of 71.2 percent, with 29.58m of the economically active population in work.
However data from the private sector suggests that the economy may contract again in the last quarter of the year, having only just emerged from recession in the three months to the end of September.
Private industry purchasing managers surveys showed slowing growth in the powerhouse service sector, which represents three quarters of overall GDP, and a renewed decline in construction sector activity during November.
Think tank the National Institute for Economic and Social Research (NIESR), which releases monthly growth readings for the UK economy, said GDP expanded by just 0.1 percent in the three months to November.
---
Follow @shanecroucher