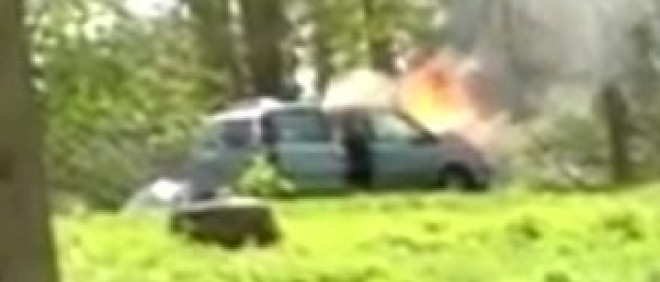 When mum Helen Clements took her kids to Longleat safari park she had to confront a dilemma even the most over-protective parent has probably never imagined: whether to remain inside a burning car, or open the car door – and face a pack of lions.
The drama started when Helen, a shop assistant from Kingswood, Gloucestershire, saw smoke emerging from her car as she drove with her daughter Charlie, 12, and 9-year-old son George through Longleat.
"Being Good Friday it was busy and we had to keep stopping and starting the car. Everything was fine until we got into the lion enclosure. The car just stopped and started to overheat."
Helen began honking the horn in the hope of getting the attention of a park ranger but then an already disappointing experience got worse.
"What I thought was steam started coming from the bonnet then it got darker and turned into smoke through the vent and towards us."
As the blaze took hold Helen realised they'd have to get out of the car – even though they were stuck in the middle of the lion's enclosure.
"We then thought we had better get out the car, but obviously the rangers were saying get back in the car. Obviously for safety reasons."
Luckily for Helen and her children, a quick-thinking park ranger arrived on the scene and they were all transferred to their vehicle before the car burst into flames, which was captured on video by another safari park visitor.
"The rangers had to keep the lions out of the way. People who saw it happening said the lions knew something was happening and were intrigued but fortunately didn't come too close."
The safari park was closed for a short time while Warminster fire fighters put out the flames.
A Longleat spokesman said: "The lions were cleared from the enclosure and the safari park was closed. No one was injured in any way and no lions were hurt. The vehicle has been safely removed and the safari park has fully re-opened to visitors."