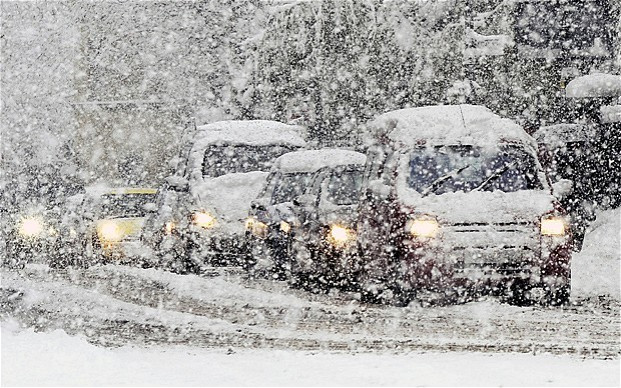 Hundreds of schools have been closed and transport systems thrown into chaos as heavy snow sweeps across most of the UK.
Rail operators South West Trains, Southern, Greater Anglia and Eurostar have cancelled or amended their timetables to deal with the weather, while part of the M4 in Wales was closed.
Two of London's busiest stations, Waterloo and London Bridge, are currently closed, disrupting the journeys of thousands of commuters.
The Met Office issued a Red weather warning to south Wales, meaning severe disruption is likely and all non-essential journeys should be avoided, with some areas expected to see 30cm of snowfall and blizzard conditions.
More than 1,000 schools have been closed today across Wales, with many more widespread closures seen across the rest of the UK.
Hampshire and the Isle of Wright have closed 400 schools, with Norfolk and Gloucestershire closing a further 300 each.
Elsewhere amber and yellow warnings, connoting the possibility of disruption, have been issued for most of the UK, with 15cm expected most of Wales and southwest England.
Southampton, Bristol and Cardiff airports are closed due to the weather, but Southampton is expected to re-open at around 3pm.
British Airways has also cancelled more than 60 of its flights, including 30 from Heathrow.
A BA spokesperson said: "If you are due to fly to or from any of our London airports on Friday 18, Saturday 19 and Sunday 20 January, you may change the date of your flight, free of charge, to a later date between 24 January and 10 February."
Andy Page, Met Office Chief Forecaster, said: "The snow is expected to be heaviest during Friday morning across Wales and the southern half of England.
"Clearly there is the potential for significant disruption to people's plans. We should follow the advice of the emergency services and local authorities to help keep ourselves, our families and our communities safe in light of the forecast."
The AA said the greatest risk of travel disruption would be in Wales, the West Midlands, southern England and Northern Ireland.
Darron Burness, head of the AA's severe weather team, said: "With the outlook remaining cold, drivers need to be prepared for possible disruption.
"Before heading out, check the Met Office weather alerts and traffic reports and allow a bit more time for your journey, as you don't want to rush on potentially icy roads. Do the basic checks on your car and, in case of any problems, carry plenty of warm clothing, blankets, de-icer and scraper, some food, hot flask and a fully-charged mobile."