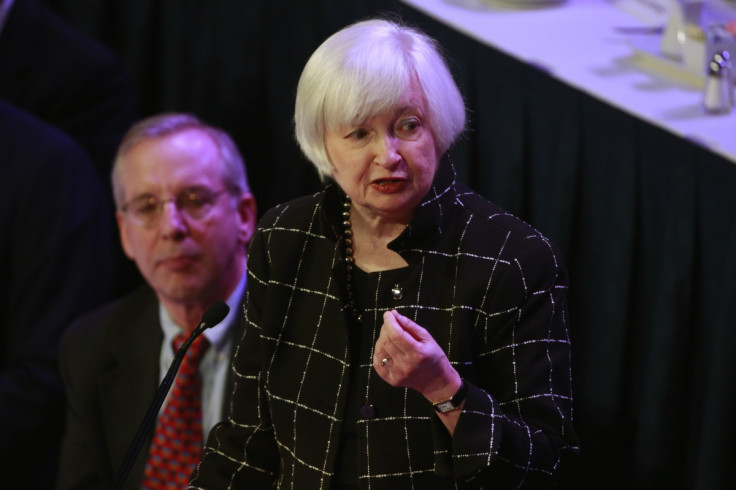 US stocks took a positive turn on 29 March, with the Dow Jones and S&P 500 hitting their highest close of 2016 following remarks by Fed Chair, Janet Yellen. In her midday speech, Yellen was cautious about normalising monetary policies amid global risks.
The S&P 500 surged 17.96 points, or 0.9%, to settle at 2,055.01. A 1.6% jump in the tech sector helped push the index to a year-to-date gain of 0.6%, MarketWatch reported. The financial sector also contributed to gains, with a rise of 0.2%. The energy sector, particularly Diamond Offshore Drilling Inc, Ensco PLC and Transocean Ltd, were the leading decliners.
The Dow Jones Industrial Average rose 97.72 points, or 0.6%, to close at 17,633.11. Gains were led by a 2.4% rise in Apple and a 2.2% surge by Microsoft. The blue-chip index briefly gained 107 points after dropping 101 points in morning trade.
According to CNBC, the S&P 500 and Dow Jones are within 4% of their 52-week intraday highs. "The market is happy. It's good news for equity prices on a dovish Fed, but a dovish Fed also indicates there are problems out there, which is concerning as well," said Douglas Cote, chief market strategist at Voya Investment Management.
The Nasdaq Composite also rose 79.84 points, or 1.67%, to settle at 4,846.62. Unlike the S&P 500 and Dow Jones, the Nasdaq continues to be down 3.2% for the year.
Oil futures suffered further declines, settling down $1.11 (£0.77), or 2.8%, at $38.28 a barrel. Following Yellen's reluctance to lift rates in the near future, gold futures surged 1.3% at $1,237.50 an ounce and a key dollar index settled down about 0.8%. The euro settled near $1.129 and the yen at 112.86 yen against the greenback.
Treasury yields settled down, with the two-year yield below 0.80% and the 10-year yield near 1.81%.
Abroad, European stocks closed higher following a long Easter holiday, while Asian markets mostly closed lower ahead of Yellen's speech. The Shanghai Composite closed down over 1% and the Nikkei 225 down about 0.2%, while the Hang Seng closed up 0.1%.