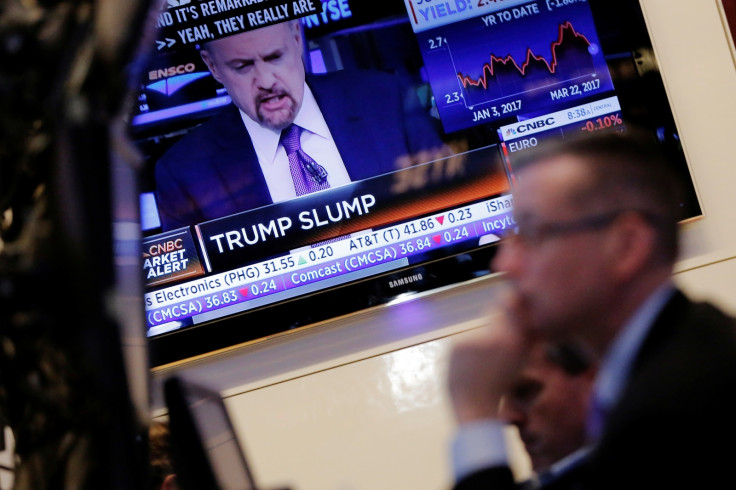 US stocks closed mixed on Wednesday (22 March), as the Dow Jones continued on a five-day losing streak. The broader market managed to make a modest comeback thanks to a surge in technology stocks.
The Dow Jones Industrial Average dropped 6.71 points, or 0.03%, to settle at 20,661.30. Nike and Goldman Sachs, which dropped 7.05% and 0.83% respectively, were the biggest decliners on the blue-chips gauge. Nike's big fall followed the announcement of poor Q3 figures. According to MarketWatch, Wednesday's decline marked the Dow's longest losing streak since January.
The S&P 500 rose 4.43 points, or 0.2%, to close at 2,348.45. Technology stocks were the S&P's biggest performers, rising 0.8%. Meanwhile, the Nasdaq Composite outperformed, rising 27.82 points, or 0.5%, to end at 5,821.64.
"It's a little tame today. Yesterday showed confidence in the Trump agenda wavering a bit," Craig Sterling, head of US equity research at Pioneer Investments, told CNBC. "It seems like we hit a low point in sentiment, which is what has driven us higher lately."
CNBC noted that US markets marked their worst day of the year on Tuesday (21 March) amid fears of a prolonged Congressional battle to repeal and replace Obamacare. Investors worry that the GOP's fight to get rid of president Barack Obama's hallmark healthcare law will delay tax reform, deregulation and government spending.
A vote on the Republicans' bill to repeal and replace has been scheduled for Thursday (23 March).
"Combine that with [The Wall Street Journal], a notably right-leaning publication, claiming that if Trump doesn't 'show more respect for the truth' then 'most Americans may conclude he's a fake president' and the optimism that caused investors to flock to the major indices has been seriously undermined by, well, Trump himself," Connor Campbell, financial analyst at Spreadex, said in a note.
Investors also checked on oil prices, which continue to decline since the Energy Information Administration announced US inventories rose by 5 million barrels last week, CNBC reported. US crude futures for May delivery dropped 0.41% to close at $48.04 (£38.48) a barrel.
The US dollar dropped 0.1% against a basket of currencies, with the yen near 111.11 and the euro around $1.079. US Treasuries rose higher, with the benchmark 10-year yield falling 2 basis points to 2.39%.