A land-based missile defence station of the US will become operational in Romania on Thursday (12 May) in a move that the US says will protect Nato from short and medium-range missiles, particularly from the Middle East. A similar project is set to be launched on Friday (13 May) in Poland, which will become operational in 2018.
However, Russia claims the defence station in Romania is a security threat to its territory but Nato and US officials maintain that the move will only serve as a protective shield for Nato.
The missile defence station at Deveselu in Romania will have a battery of SM-2 missile interceptors and will be formally merged into the Nato missile shield at the July Nato summit meeting in Warsaw, The Guardian reported. The Deveselu site, where work began in October 2013, has reportedly been set up at a cost of $800m (£554m). A ceremony to mark the activation of the station will be attended by many US and Nato officials, including Nato Secretary General Jens Stoltenberg, BBC reported.
The missile defence station in Romania is part of the Article Five commitment by all 28 Nato members, under which they decided in 2010 to create a missile shield based on US technology. The next phase of the project, which is due to be completed in 2020, will see a similar project launched in Poland.
Meanwhile, Russia has warned that the US is breaching the Intermediate-Range Nuclear Forces (INF) Treaty signed in 1987. "This decision is harmful and mistaken, because it is capable of upsetting strategic stability," Mikhail Ulyanov, head of the Russian foreign ministry's department for proliferation and arms control issues, was quoted as saying by BBC. "From our viewpoint this is a violation of the Intermediate-Range Nuclear Forces Treaty."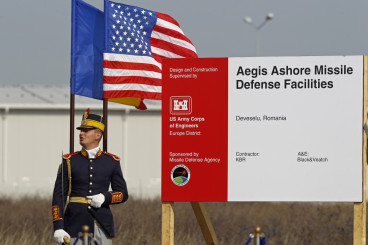 In response, US Assistant Secretary of State Frank Rose was quoted as saying: "Both the US and Nato have made it clear the system is not designed for or capable of undermining Russia's strategic deterrence capability."
"Russia has repeatedly raised concerns that the US and Nato defence are directed against Russia and represents a threat to its strategic nuclear deterrent. Nothing could be further from the truth," Rose reportedly added.