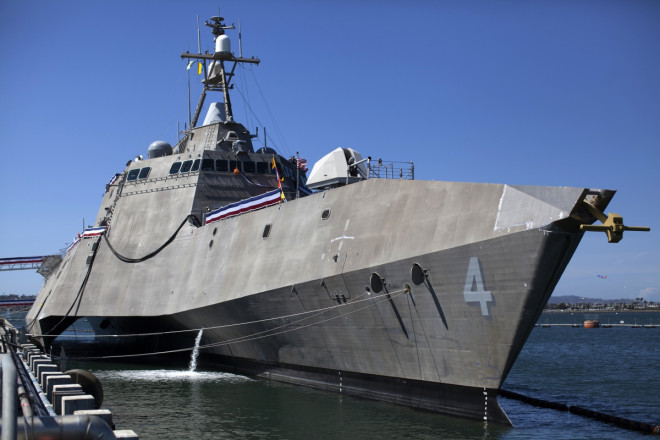 US Navy scientists have developed a radical new technique to convert seawater into jet fuel.
After decades of experiments, researchers at the US Naval Research Laboratory's (NRL) Materials Science and Technology Division have found a way to extract carbon dioxide and hydrogen from the ocean and convert the mixture into liquid hydrocarbon fuel.
The breakthrough means that warships could have an unlimited supply of fuel which could be replenished while at sea. It would also reduce dependence on the world's dwindling supplies of oil.
Although practical, affordable applications of the technology are several years away, it has been hailed as a "game-changer" that could produce a replacement fuel at a cost of $3 (£1.79) to $6 per gallon within a decade.
Heather Willauer, a research chemist at the NRL, said: "This is the first time technology of this nature has been demonstrated with the potential for transition from the laboratory to full-scale commercial implementation."
The process involves extracting both dissolved and bound carbon dioxide from seawater at 92% efficiency and simultaneously producing hydrogen. The gases are then converted into liquid hydrocarbons by a metal catalyst.
Vice Admiral Philip Cullom, deputy chief of Naval Operations for Fleet Readiness and Logistics, commented on the official blog of the US Navy this week that the development was "revolutionary" and would improve efficiency while at sea.
"Converting fuel from seawater when produced at economies of scale could provide a new source of power for our ships and aircraft," he said.
"It will make us less reliant on fuel from specific ports, reduce or nearly eliminate our need for fuel resupply, and thereby increase our independence, resilience and combat effectiveness."
He added: "We need to reinvent how we create energy, how we value energy and how we consume energy. We need to challenge the assumptions that are a result of the last six decades of constant access to cheap, seemingly unlimited amounts of fuel."
The US Navy plans to have a "green" carrier strike force by 2016, with all its escort ships and aircraft powered by an equal mix of biofuel and oil.
Watch footage of US Navy researchers converting seawater into fuel below: