After sprinting to three gold medals at the London Olympics 2012, Jamaican star runner Usain Bolt has revealed his fascination for a new challenge - cricket. The world's fastest man is reportedly discussing the possibility of turning out to play Twenty20 cricket in the T20 Big Bash League in Australia, with a little help from former Australian spinner Shane Warne. The world record holder is not entirely new to cricket, having played at the junior level, and has admitted he would certainly consider the opportunity if it came about.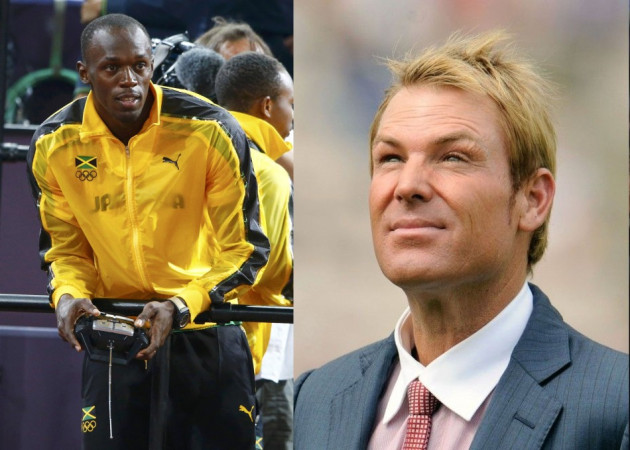 "I definitely love cricket...not as much as Yohan (Blake) loves cricket. For me, it's a great sport and I love the 20-20. Cricket with the new rules kind of allows me to see it. I don't have to say much about the IPL and I try and catch as many matches as possible. The one and the greatest stars to have been there, Chris Gayle, I Usain Bolt have got his wicket. So I don't want to say any more. I am ready for the IPL...if I get a chance it's something new to try. It's going to be fun and give me joy. If I get a chance, it will be something wonderful to do," Bolt explained.
While he may still turn out to be as brilliant at the sport as he is in athletics, Bolt's arrival will, if nothing else, raise the profile of the game and Melbourne Stars' (a franchise in the league) president Eddie McGuire is working to make the Jamaican's entry to the Big Bash League a reality. However, Bolt remains cautious over his chances of impressing, should he actually turn out for a game or two.
"If I get the chance I will definitely try because I know it's going to be a lot of fun. I don't know how good I am. I will probably have to get a lot of practice in," he said, in a report by the Guardian, adding that he would be nowhere near the technical level of the other players.
Meanwhile, Warne is believed to be another actively involved in bringing Bolt to Australia. The event starts on 7 December and runs to 9 January.
"He [Warne] contacted me and asked me about if I am serious and if I really want to do it then he can put in a few words that should get it done. So we will see if I get the time off. I will try. Twenty20, I love it. Just the fact that it is so exciting, it's about going hard the whole time, not just about playing shots. It's about being aggressive and I like that style of batsman," Bolt explained.
"Cats out the bag, we've spoken. Olympic legend @usainbolt would like to have a crack at 20/20 for the Melb stars 2012 Please retweet guys," Warne tweeted, adding, ""I think the Melb Stars colours suits him hahah." Warne is expected to captain the Stars' team for the second consecutive year.
However, not everyone is overly enthusiastic about the idea of Bolt playing professional cricket, with Mike McKenna, the league's project manager, pointing out that he wanted the sprinter to prove himself capable before any deals were discussed.
"We'd be very keen to have someone like Usain Bolt involved in some way in the BBL. He's very keen on cricket, he's been close to the Australian cricket team and I'd imagine he is pretty quick between the wickets," McKenna started, before adding, "But we would want to make sure that any athletes can play another code to an appropriate level. The competition has gone beyond the novelty factor. We had Andrew Johns play (for NSW) a few years ago and that was good fun in those days but it's taken more seriously now. We've moved forward at a domestic level and it's an international sport with a World Cup. He'd need to be able to stand on his own two feet, both in terms of talent and from a safety point of view."