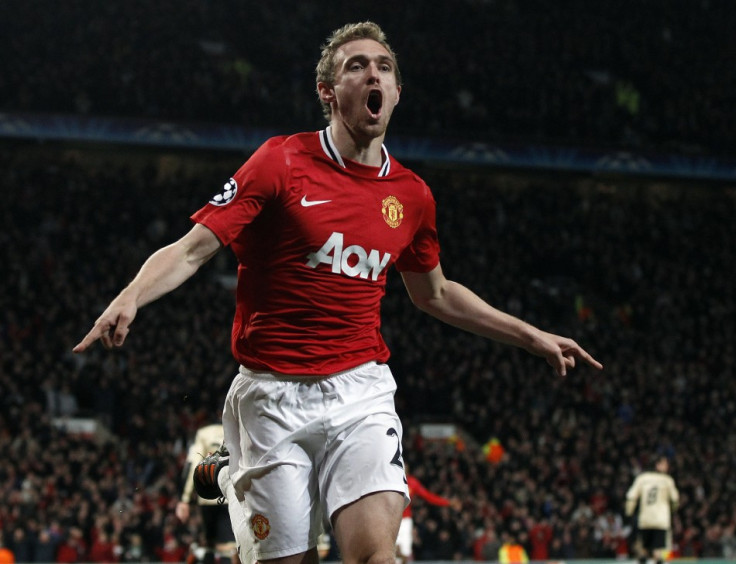 Manchester United midfielder Darren Fletcher feels he is finally over the effects of the mysterious illness that curtailed his involvement in the club's pursuit for honours last season.
The debilitating virus meant Fletcher was not part of the Manchester United squad that lost the Champions League final to Barcelona last season, and he missed the vast majority of their ultimately successful Premier League title run-in as well.
At times this season the Scot has looked languid and not at his industrious best but following his stirring performance during Manchester United's 2-2 draw with Benfica, he finally feels back to the form that made him one of Sir Alex Ferguson's most consistent players.
The game at Old Trafford on Tuesday night was Fletcher's 300th in a Manchester United jersey and the 27-year-old suggests he already has his eyes on the next milestone.
"It was a great moment to reach such a milestone." The Manchester United midfielder told The Sun.
"The time has flown since my debut and I've enjoyed everything about playing for Manchester United.
"It's all I've ever known and it's become my home. It's an achievement I want to build on. The next target has to be 350, then 400 and so on.
"I have felt good ever since the start of the season and I am pleased with how things have gone so far. The more games that you play, the more sharpness you get.
"The experience you pick up along the way is a massive thing. You hear people talk about it when you're younger, but it's only when you get older that you realise its importance.
"It's about different situations on the pitch. You learn what it takes to succeed, what you need to do in certain matches and how to prepare for games so everything eventually becomes second nature.
Following the retirement of Paul Scholes Manchester United's midfield has come in for criticism this season, with many seasoned observers pinpointing it as their most susceptible weakness.
While Fletcher concedes the aforementioned Old Trafford icon will never be replaced he believes Manchester United will continue "moving forward" regardless.
"Obviously, Scholesy had a wonderful range of passing and could control the tempo of games and, as we get more experienced, that's something we'll be looking to do." Fletcher added.
"Manchester United always keeps moving forward. If one player leaves or retires the team is still in place.
"The manager has always kept things moving forward. This club never stands still."