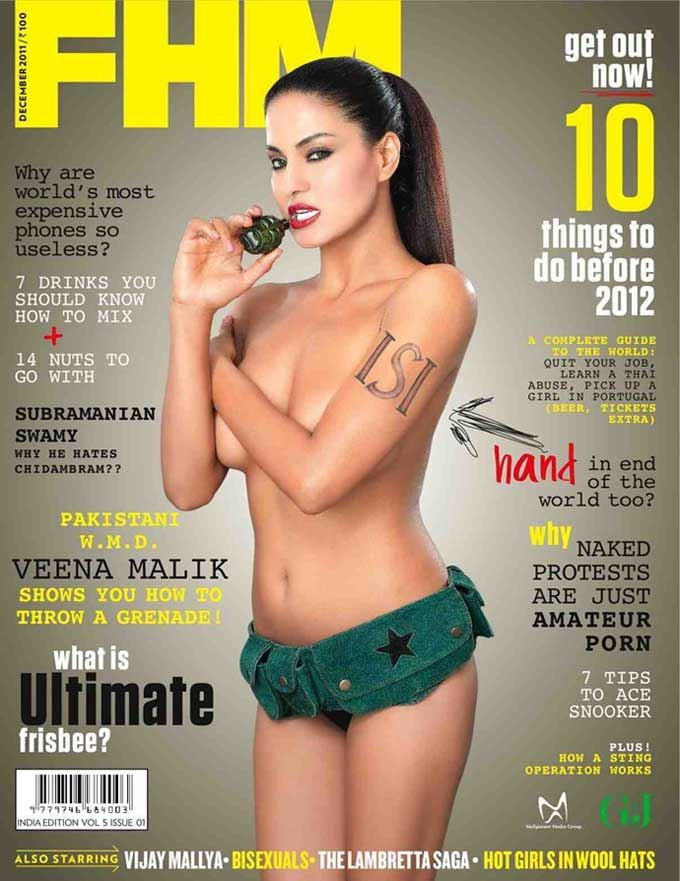 Veena Malik, the actor at the centre of a bitter row over a "nude" photograph that appeared on the front cover of an Indian magazine, has slammed the "stone age" Pakistani society.
Talking to the Guardian newspaper from Mumbai, India, Malik also said that she was not scared and was prepared to return to Pakistan despite widespread threats and condemnation. The actor told the newspaper: "The things I have done in life, I have the guts to stand by. This is my body; this is my life. This is my body, and I will take advantage of it if I want to. And it's a very beautiful body.
"But I will not allow any man out there to morph my pictures and put it on the cover, just to sell their magazine. They are gaining. I'm losing."
The FHM Magazine carried a photo of Malik wearing nothing but a tattoo that read ISI, the name of Pakistan's dubious spy organisation, in its December issue. The image has triggered a huge controversy in the subcontinent.
Pakistan's military establishment has slammed Malik's act as "the height of humiliation for Pakistan, done by a Pakistani on Indian soil," the report has noted.
The magazine, the Indian version of the British men's monthly FHM, has maintained that Malik agreed to appear in the fashion as is shown on its front cover. Both the parties have filed lawsuits over the issue.
Malik has told the Guardian: "I'm living my life on my own terms. If somebody does not agree with that, if somebody does not want to understand, it's pretty OK with me. I did not commit any crime in my life.
"If some mullah on the TV today says shoot the girl, they will shoot me. But the guy who removed my clothes using some technology, at least say something against him. This attitude, I'm sorry, is in the society. When they say they have become modern, grown up, that's wrong. They still live in the stone age."
"My choice was a bikini shoot. And I did a bikini shoot. They removed my bikini, later on. It was not a topless, and not a nude, shoot. It was a completely covered shoot. When the upper portion of the model is completely covered, by the hands, you can't call it topless," she has been quoted by the Guardian as saying.
Asked about the claim made by Indian fashion designer Umair Zafar that the entire episode was a hoax stage-managed by Malik and FHM, she told the paper: "I don't know this guy (Zafar): never met him, never heard of him."