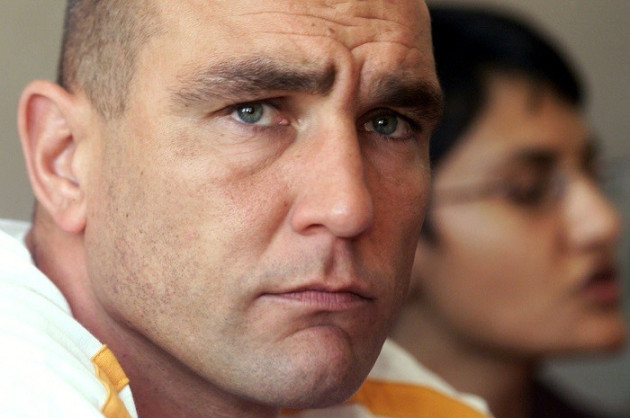 Vinnie Jones, the celebrated football hard man who went from grabbing Paul Gascoigne's "unmentionables" to hanging out in Hollywood with Brad Pitt, has had three operations to remove skin cancers and fears more may be discovered.
The combative Jones, who was famously booked after just three seconds of one match for Chelsea against Sheffield United in 1992, also played for Leeds United and most famously Wimbledon, where he was a member of the "crazy gang" that beat Liverpool 1-0 in the 1988 FA Cup Final.
After a playing career in which he was sent off more times (12) than he was capped by Wales (9), Jones put his hard man image to good use, playing thugs in a number of films, including Guy Ritchie's Lock, Stock and Two Smoking Barrels and X-Men: The Last Stand. He has lived in the United States for years, mainly making the newspapers when involved in bar-room brawls. Now Jones faces the toughest fight of all: battling cancer.
"When the doctor said I had skin cancer, the first thing I thought was, 'How long have I got?' A million and one things go through your head. It's weighing very heavily on me all the time. It has really knocked me for six and made me reassess my life and goals," Jones said.
Jones's wife and childhood sweetheart Tanya has also fought melanoma, a skin cancer often caused by exposure to the sun - though in his wife's case it is thought to result from medication she takes following a heart transplant 26 years ago.
Each year melanoma is diagnosed in over 10,000 people in the UK alone, and unless diagnosed early can prove fatal. In 2011, 2,209 deaths from malignant melanoma were recorded in the UK. The disease can be avoided by staying out of strong sunlight and using sun cream.
Though he claims he is not a sun-worshipper, Jones believes his outdoor lifestyle may have been responsible. Now working on behalf of the Melanoma Research Foundation, Jones says: "Footballers never put on sunblock and they should all be wearing it. Kids should all be wearing it every time they play sport. If you spot something on your skin that doesn't feel right... get it checked out immediately."
As well as the skin cancer charity, Jones has also lent his image to the British Heart Foundation. He appears in the CPR video below: