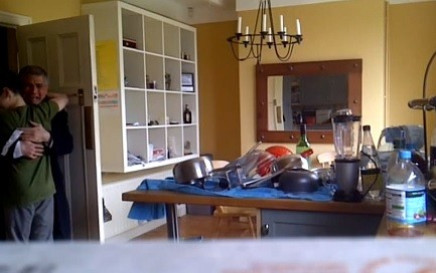 A heartwarming video clip of a proud father's reaction to news that his son had passed his maths exam has touched viewers from across the globe.
The three-minute viral clip captured the moment when Aria Shahrokhshahi reveals that he achieved a C grade and his father bursts into tears of joy.
Viewers see the parent clutching the results in disbelief, repeatedly hugging the teenager and telling him he's "set for life".
According to Aria his dad's emotional response was because he had always struggled with school.
The video captions reads: "I've never been amazing academically and have struggled through out school , neither me or my dad or my teachers thought I was going to get my C , I know some of you might be saying , well a C is nothing but for me it was hard to get."
The video has received nearly 1.5 million views in just 48 hours.
"Good job man, I know what it is like to struggle at school. You are lucky to have such a father," one viewer said.
Another wrote: "Thank you for this. I do expect my child to do well but I've decided I need to be more like that dad because you're absolutely right, she should be praised more even if she does usually get A's."