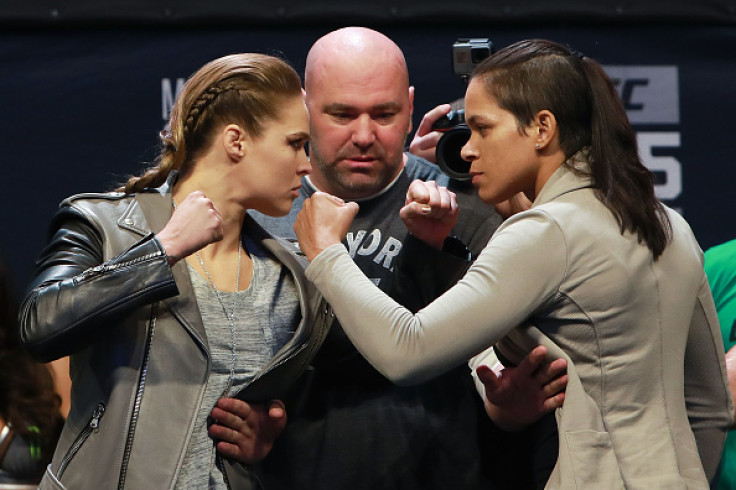 Ultimate Fighting Championship (UFC) Women's bantamweight champion Amanda Nunes has labelled Ronda Rousey "weird" for avoiding the media spotlight ahead of their UFC 207 title showdown on 30 December at the T-Mobile Arena in Las Vegas.
The challenger has stayed away from the spotlight as she prepares for her comeback after a 13-month hiatus following her brutal knockout against Holly Holm last November when she surrendered the title. Rousey has made it clear that she is not interested in promotions and extensive interviews after choosing to simply focus on training and being in the best shape possible for her return to the octagon.
The 29-year-old California born fighter has given just a couple of interviews since the fight at UFC 207 was announced, but Nunes thinks that press conferences and interviews are part of the package and it is something every fighter needs to deal with ahead of their fights. The Brazilian fighter refrained from commenting on Rousey's mental state and is confident that her challenger will be in the best possible shape when they come face-to-face just prior to the New Year.
"Yeah I think she's been very weird about everything," Nunes told Fox Sports. "This is MMA, people are going to talk good about you, people are going to talk bad about you. You have to be ready for it."
"You guys (the media), you're part of our lives, part of our careers. We have to talk and speak to the media because this is part of our job. She's being so dramatic and weird about that. She knows this is normal."
"I really don't want to think she's weak but she shows that she's been avoiding all those things that made her who she is now. I think it's a little bit weird," the bantamweight champion explained.
"I don't think she's weak in mind. I really think she's prepared for the comeback. I expect the best Ronda but I don't know what's wrong with her."