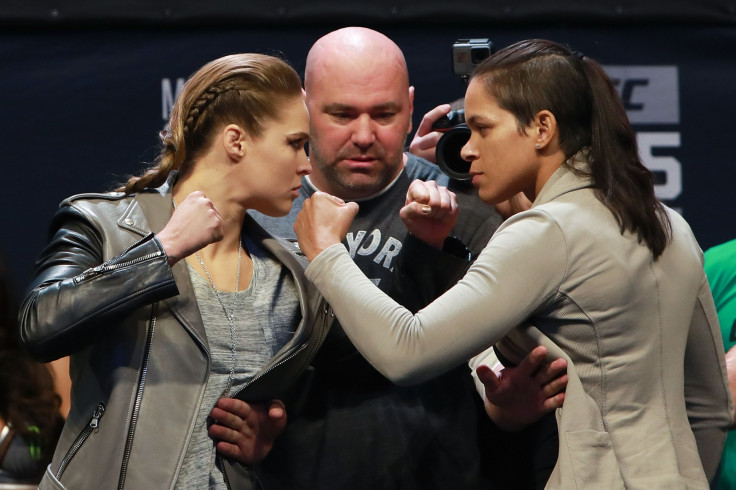 Ronda Rousey has condemned both Conor McGregor and Floyd Mayweather Jnr for choosing money as their motivation ahead of her eagerly awaited return at UFC 207.
McGregor and Mayweather have continued to fuel talk of a boxing showdown between the two that would surely become the most lucrative fight in combat sport history.
While the Dubliner remains contracted to UFC, he insists he would "knock out" the undefeated boxer, who retired with a record of 49-0 in September 2015. Despite UFC president Dana White insisting the fight isn't a possibility given his contractual obligations and Leonard Ellerbe, CEO of Mayweather Promotions describing their spat as a "game," talk of a meeting between the two remains a hot subject.
While those two have been verbally sparring, Rousey has been preparing for her first fight in 13 months on 30 December when she takes on Amanda Nunes.
Alongside McGregor, Rousey became one of the faces of UFC prior to taking a break from MMA following her first career loss to Holly Holm in November 2015.
And ahead of a return, the 29-year-old has hit out over what could be Mayweather and McGregor's real intentions.
"If money is the motivation then f*** that," Rousey said in an interview with ESPN. "All these Money people... Money [Floyd] Mayweather, Money [Conor] McGregor. I see they they're trying to do an angle or whatever. People buy it.
"The worship of money is our society is so deep. But just because that's the easiest way to keep people's attention or entertain them doesn't mean that's the right way."
Rousey's return had initially been mooted for UFC 205, the promotion's first event in New York in the hallowed halls of Madison Square Garden. She instead chose to delay her return with Conor McGregor headlining the card against Eddie Alvarez, something she remains grateful for.
"Conor gave me the chance to rest, he took the weight off my shoulders, and I am grateful," she said. "I will never put my body at risk for money and views ever again. What makes me happy is winning and being the best in the world and that's it."