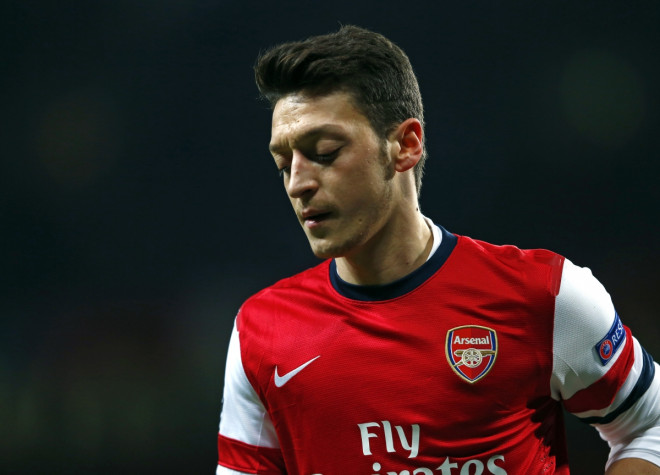 Arsenal have been handed a huge setback ahead of the north London derby against Tottenham Hotspur in the Premier League after Mesut Ozil has been ruled out with a hamstring injury.
The German international was substituted at half-time during the Gunners' second leg clash in the Champions League last-16 against Bayern Munich on Tuesday. Arsene Wenger's side are scheduled to face Spurs at White Hart Lane in their next league fixture on Sunday which will be followed by a visit to Stamford Bridge to face league leaders Chelsea on 22 March.
The Frenchman revealed that he could be without Ozil's services at least for a few weeks indicating that the 25-year-old is likely to miss the crucial fixtures in the coming weeks.
The former Real Madrid star is set to join teammate Jack Wilshere who suffered a hairline fracture in his left foot while on International duty with England and may also be unavailable for Manchester City's visit to the Emirates before the turn of the month.
"He has a hamstring problem that looks quite serious. I don't know [for how long he will be out]. For sure he's out [of the game against Spurs]. We have to make a scan tomorrow to see how bad it is but he's out for at least a few weeks. I hope it's not too bad," Wenger explained.
The midfielder suffered a dip in form last month and was rested during Arsenal's 4-1 victory at home against Sunderland. However, Ozil opened the scoring and contributed an assist during the Gunners' 4-1 victory over Everton in the FA Cup quarter-final fixture last Saturday.
Meanwhile, Wenger was also critical of Bayern's Arjen Robben and criticised him for going down too easily looking for a decision from the referee. The north London club suffered and aggregate 1-3 defeat against the German and European champions over the two legs following their 1-1 draw at the Allianz Arena.
"He's a fantastic player, I would not deny that, he's one of the best players in the world. But he gets in front of a player and then he slows down and goes down. He gets the free-kicks. That's where we spoke about yesterday that the referee, if he gives him a yellow card on the first one when he goes down, he will not do it again," the Arsenal manager concluded.