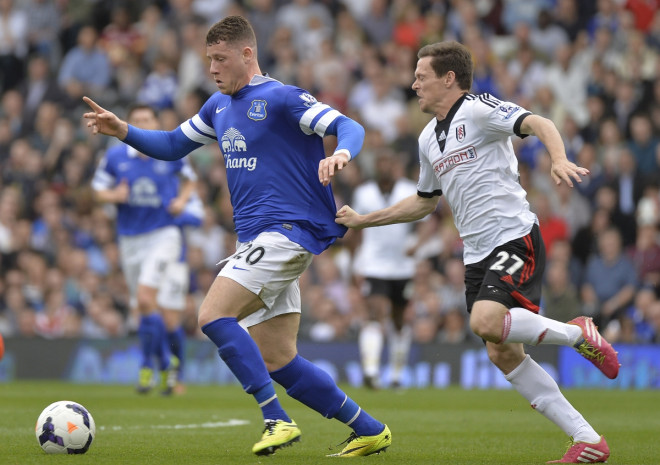 Arsene Wenger has revealed that he is a huge admirer of Everton midfielder Ross Barkley and expects the youngster to make great strides in the future.
The midfielder has come of age under new Everton manager Roberto Martinez and has already staked a claim to make the England squad for the 2014 World Cup in Brazil.
Barkley was the standout performer for Everton in their 1-1 draw against Arsenal in the reverse fixture and is struggling to get himself fit to give Everton a fighting chance of overthrowing Arsenal for the fourth spot.
His performance has attracted interest from the likes of Manchester United, who are willing to pay up to £50m for his signature.
The Frenchman has a collection of young Englishmen himself, with Jack Wilshere, Alex Oxlade-Chamberlain and Theo Walcott all comparatively prodigious and capable of taking England to an all new level.
Wenger believes that Barkley's strength and technical ability make him one of the best players in the league, something which he has been able to replicate in big games.
However, Wenger insists that he is not guaranteed a World Cup spot with many other youngsters vying for a place in Roy Hodgson's squad.
"He's made a big step forward; from a young hope he has suddenly convinced everybody he has huge potential and talent," Wenger told www.arsenal.com.
"He can have a huge impact in big games, with a combination of technical qualities and power, which are very difficult to combine in midfield and what is demanded from a modern midfielder. For me, he has had a big impact this season. He's one of the best I have been.
"It's good that he's not guaranteed a World Cup place, because at the World Cup experience of big games is important in terms of the number of games you have behind you.
"You can't travel to a World Cup with too many players of that [youth]. When you go into a game you need to know that you get at least a certain quality, and a certain quality is guaranteed by the experience of the player of big games.
"You can take one or two and take a gamble. You cannot take five or six like that," he concluded.