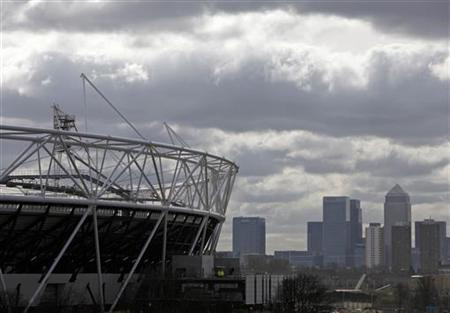 West Ham Football Club are apparently in front for the race to own the Olympics venue once the £547m stadium is finished. The stadium which was planned to be retained as the new home of UK athletics is undergoing a formal bid process which begins today to find a 'shared' ownership scheme so that athletics could be prepositioned alongside, something else, for example football.
With bids for Olympic stadiums in the past been a straight choice between a Athletics stadium - in this case Stratford's stadium would hold 28,000, or a football stadium - which could hold 60,000, the Olympic Park Legacy Company are determined to do something more 'flexible' such as combine both.
This has led West Ham FC, who have submitted one of around 100 bids of interest - along with Tottenham Hotspurs FC which have been considered over the last year as the popular choice amongst newspapers and radio - (Tottenham have already declared their preference to stay in North London for the time being).
"I was reluctant in the early stages because I have always been against the running track but going down there and seeing it was different," said West Ham FC's co-chairman, David Gold to the BBC.
"We are fully committed to this being an international sporting venue, plus a centre of excellence and learning." he added, "It is a once-in-a-lifetime opportunity to grab the nettle and turn this into a legacy for the people of Newham, the people of London and the entire country."
More importantly, West Ham FC, aka the Hammers has won the local and perhaps crucial support of the Mayor of Newham:
"West Ham United are an East End institution... We have always argued the Olympic Stadium needs a top-flight football team after London 2012. In my eyes there is only one obvious choice - and that's the Hammers. West Ham understand the community." said the Mayor passionately today, "It will mean there is a tenant that will look after the place, rather than let it go to ruin."
It is known that AEG - who run the Millenium Dome as a successful entertainment venue - along with a number of US stadiums - are also interested, however it would appear the prospect of Premier League football along with the key fulfilment of London providing athletics venue as part of its Olympic bid appear 'on top' - as it provides something which the Olympic Park Legacy Company wanted - and which West Ham 'back':
"We have spoken with Newham and Essex Beagles [athletics club], London Marathon and others about how that would work." said Ian Tompkins of West Ham FC, "If Essex Beagles were to use the community track that would free up their existing facilty. Newham have talked about expanding cricket facilities in the area, that has led to discussions with Essex, who are equally keen on developing a presence in east London." he added, "The other double benefit of West Ham United moving is that our existing Upton Park site would open the door to a much-needed wider regeneration of the surrounding area, which Newham is exploring as part of our overall bid."