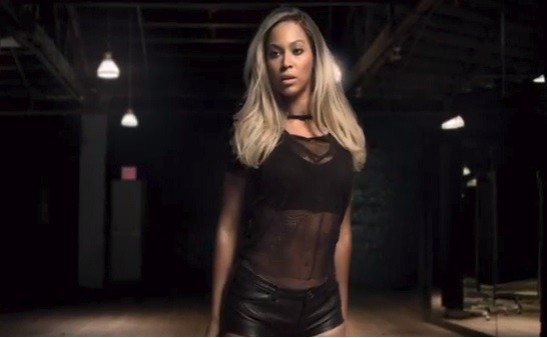 She knows how to spark a frenzy amongst her fans whether its promoting her Super Bowl performance, her revealing HBO documentary or her forthcoming Mrs Carter.
And Beyoncé's latest declaration is no exception.
The Single Ladies hitmaker has caused a stir after teasing fans about a mystery announcement due to hit the web at 9AM EST (2pm GMT).
In the six-second video uploaded on her YouTube page, the 31-year-old singer stands in a dark dance studio in front of mirrors.
She shows off her curves in skimpy leather shorts and a revealing sheer top. The sexy look is completed with her cybernetic Sasha Fierce glove.
It is no secret that the No 4 (as in 4 April) holds sentimental value for Queen B and her husband rapper Jay-Z.
The number is the name of Beyoncé's platinum-selling album and represents the birthday of her and Jay-Z. They couple also got married on the fourth day of the fourth month and are celebrating their fifth year wedding anniversary.
Could it be a new song or a new commercial for her Pepsi 2013 campaign?
Either way it looks like her teaser is already having the desired effect.
"I can't wait to see what she has in store I like what I here," said one online commentator after seeing the video.
Another wrote: "YASSS for the sasha fierce glove. The beat in the background sounds like none other than a timberland production. I just canttttt right now."