A pall of gloom descended over the music industry, on the eve of 54th Annual Grammy Awards night, as the news of the death of one of the legends of American pop music spread.
Fans, fellow singers, composers and celebrities around the world reacted with shock and disbelief at the untimely death of the pop queen, Whitney Houston.
Social networking sites are flooded with shocked reactions and condolences.
Several musicians and celebrities have expressed their grief on twitter and Facebook.
Some of the celebrity tweets: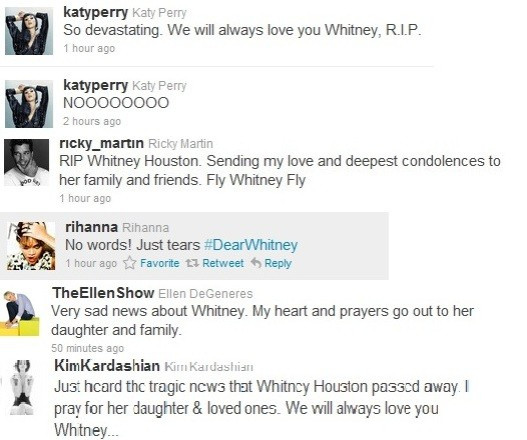 Whitney Houston, who died on Saturday evening in a Beverly Hills hotel, has released seven albums and three film soundtracks and won six Grammys, besides selling over 200 million albums and singles worldwide. She earned 30 Billboard Awards, 22 American Music Awards and two Emmy Awards.
She reigned as the unchallenged queen of the music industry from the middle of 1980s till the late 1990s.