Who is Brock Lesnar? Top facts about the architect of Suplex City
What makes opponents fear 'The Beast Incarnate'?
Brock Lesnar is one of a kind. Only a few athletes would dare risk going toe-to-toe with 'The Beast Incarnate' – be it in the WWE's squared circle or in the UFC's octagon.
Brock Lesnar fact file
Real Name: Brock Edward Lesnar
Date of birth: 12 July 1977
Home town: Webster, South Dakota, United States
Height: 6 ft 3 in
Weight: 286 lbs
Family: Married Rena Greek, known by her ring name Sable, in May 2006.
Lesnar's physique strikes fear into the hearts of many. However, it isn't just his looks that sees opponents vanquished. His speed and strength are legendary.
Frank Mir learned this all too well at UFC 100, when in a heavyweight title unification bout Mir was merciless beaten on the floor by Lesnar, who used his strength, speed and wrestling skills to come out on top.
With these weapons in his arsenal, Lesnar has long been a name to be reckoned with. Without further delay, let's learn more about one of the greatest athletes to ever set foot in the ring.
Who is Brock Lesnar?
Brock Lesnar, born 1977, is of German descent. His love affair with amateur wrestling began at Webster High School. His wrestling skills were further sharpened when he attended Bismarck State College and he then transferred to University of Minnesota on a wrestling scholarship . His dedication towards the sport ultimately saw him sign a World Wrestling Federation (WWF) developmental contract in 2000, despite being offered an NFL tryout with the Indianapolis Colts.
What are Brock Lesnar's career highlights?
Lesnar became the youngest wrestler to win the WWE Championship in 2002. He was 25 years old. The title, then known as the WWE Undisputed Championship, was his first belt in the WWE, five months after he made his main roster debut.
He was also the youngest King of the Ring and Royal Rumble winner in 2002 and 2003 respectively.
Lesnar won New Japan Pro Wrestling's IWGP Heavyweight Championship on his debut for the company in a three-way match against Kazuyuki Fujita and Masahiro Chono in 2005, having left the WWE the previous year.
He returned to the WWE after a 10-year hiatus and ended The Undertaker's undefeated streak at WrestleMania XXX in 2014. With that match, he also became the first wrestler to defeat the Deadman on The Grandest Stage of Them All.
Collegiate wrestling
He won the National Junior College Athletic Association (NJCAA) heavyweight wrestling championship when he attended Bismarck State College.
He won the 2000 National Collegiate Athletic Association (NCAA) Division I heavyweight wrestling championship when he was at University of Minnesota.
UFC
Lesnar won the UFC Heavyweight Championship at UFC 91 after defeating Randy Couture by TKO.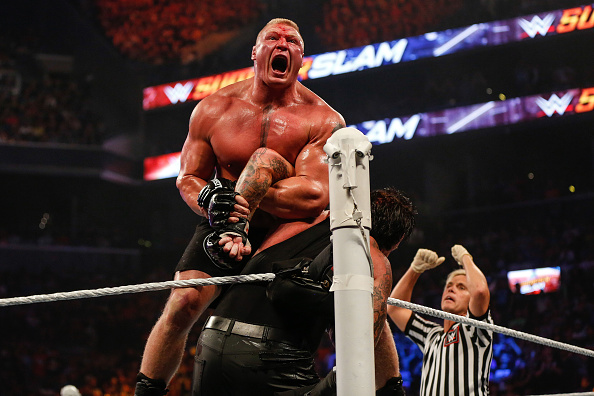 Childhood nickname
Lesnar had a funny nickname when he was young. Brock's childhood friend Justin Gaikowski used to call him Broccoli. "When you're young, nobody likes to eat broccoli. I'd be like, 'Hey, Broccoli! You've got bad taste!'" Gaikowski revealed in WWE video Brock Lesnar: Here Comes The Pain.
Brock is colourblind
He suffers from the most common form of colour blindness, red-green colourblindness.
Joined the National Guard at 17
He wanted to work with explosives but after being assigned a desk job he quit and began training as a wrestler.
Who was Brock Lesnar's first WWE fight against and how did he win it?
His match with Jeff Hardy at Backlash 2002 saw Lesnar hit out a series of vicious powerbombs. The referee stopped the fight and announced Lesnar winner via TKO.
Alcohol and painkiller addiction
Brock was a heavy drinker and abused painkillers during his early days in the WWE. "I'm not a man to be on the highway. I'm not a man to be in a hotel room every night. I'm not a man to be in an airplane everyday. It took all that for me to discover that and to cope with all that was my best friends — vodka and Vicodin," Lesnar told FoxSports.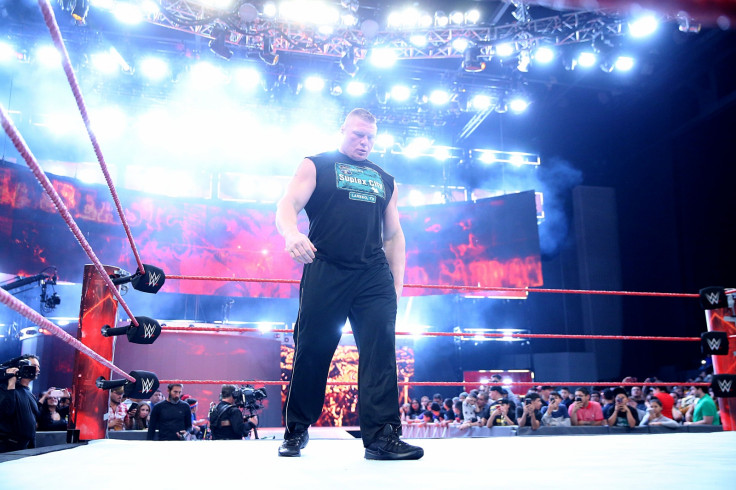 © Copyright IBTimes 2023. All rights reserved.