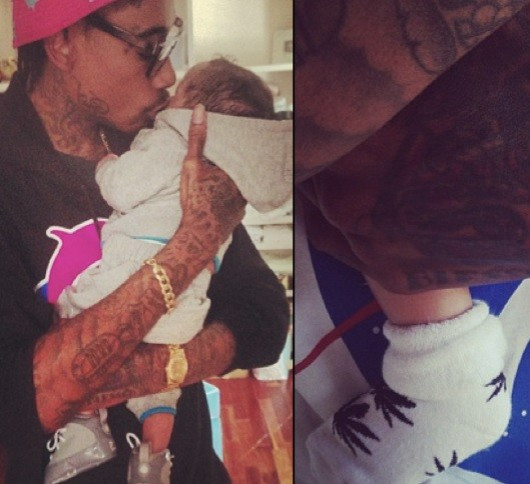 US rapper Wiz Khalifa and his fiancée Amber Rose have been accused of irresponsible parenting after they posted a photo of her baby wearing socks emblazoned with marijuana images.
The couple divided fans after sharing the controversial picture, which shows their two-month old son Sebastian in his father's arms sporting the black and white socks, on Twitter.
The captions read: "Like father like son #HUFsocks."
"They wanted attention so they got it. End of story. But why you have your baby wearing a drug? This new generation parenting is. Yeah," one unimpressed fan tweeted.
Another wrote: "They're just socks. You guys are acting like he's putting a blunt to the baby's mouth. Calm down."
Talkshow hosts Wendy Williams also weighed in during her Hot Topics segment.
"Sebastian is only less than two months old and I get it that Wiz loves to smoke his weed," she said.
"I get it that marijuana is about to soon be legalised everywhere but I think it's going too far by posting this picture.
"And I'm no cornball, I'm a cool lady especially at home when I do at-home things, but there's some things that are supposed to be at-home things. If you want to have the kid wear his marijuana leaves on his socks like that - that's a closed-door conversation. Oh you crazy kids..."
Rose said critics were being too quick to judge.
"It's funny how every1 turns into a doctor when it comes 2 some1 else's baby. Relax. Sit back & take a shot of shutthef**kup thx," she told her 1.6million followers on Twitter.