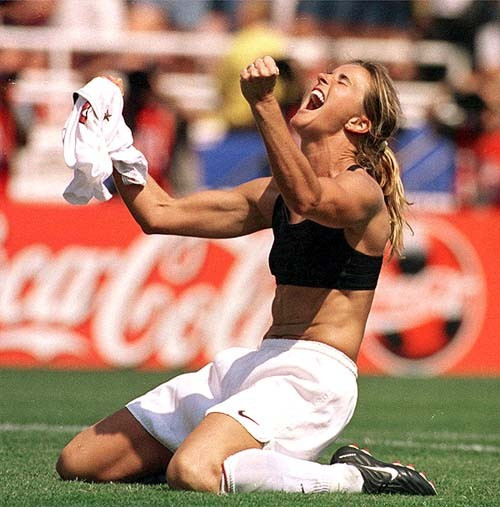 American football legend Brandi Chastain, who famously ripped off her shirt after taking the winning penalty kick in the 1999 women's World Cup against China, is donating her brain to science for concussion research.
The retired player hopes her brain can help scientists better understand concussions and chronic traumatic encephalopathy (CTE), a degenerative disease found in the brains of athletes who have taken repeated blows to the head.
"I'm not going to be needing it at the end of my life, No. 1," Chastain quipped to USA Today.
"Hopefully ... doctors and scientists and neuroscientists [can] look at the brain of someone like me, who has been playing soccer a majority of my life, and really dissect the brain and say: 'Here's where we see it beginning. Could we then use that information to help say that before the age of 14, it's not a good idea to head the ball?"
Chastain, 47, said she suffered two concussions while playing in college but experienced no side effects that she was aware of. She never shied away from heading the ball in her 40 years playing the game, and occasionally "saw stars." Chastain said she's not aware of any symptoms of degenerative brain disease.
"I never had an official diagnosis of a concussion in my career, but as you grow older, you sometimes say, gosh, am I losing my memory or did I used to forget when I went into a room what I went in there for? Could this be the start of something?" she told the newspaper.
Cindy Parlow Cone, another former US national team player, has also donated her brain to science.
Concussion research so far has focused largely on male players of American football. US soccer players, however, also suffer significant blows to the head either by "heading" a fast-moving ball, knocking heads with other players, or being slammed to the ground.
Scientists can currently detect CTE only by dissecting brains after death. Many football players have donated their brains to science, but researchers have had almost no access to female brains.
Chastain said she has begun to talk to other past and current members of the team about donating their brains to science.
She said she's been trying to convince Abby Wambach, 35, who retired after the US team won the 2015 World Cup, "to come on board because I think she will be an interesting brain study, decades from now, as the player who scored 75 goals with her head and probably put her head into places ... where [it] probably didn't belong," Chastain told the New York Times. "How many times did she hit her head on the ground after being run over by somebody?"
Chastain's brain will go to Boston University, which is a pioneer in the study of CTE.
Chastain is currently coaching youth soccer teams in the San Francisco Bay Area, and is an advocate for the Safer Soccer initiative, which seeks to establish rules preventing players under the age of 14 from heading the ball.