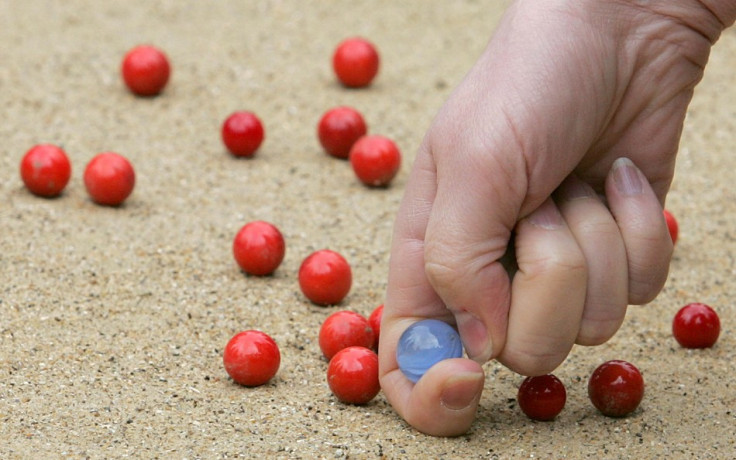 The world marbles championship is celebrating its 80th anniversary at The Greyhound pub in Tinsley Green, West Sussex.
The competition is open to anyone of any age or nationality, but adults aged from 20 to 80 years are the most usual participants in the championship.
The tournament includes both individual championships and team events, where teams of six players participate in knock-out matches to win the title and a silver trophy. A separate over-50s competition has also been recently introduced.
Teams from the US, the Netherlands, France and Germany regularly participate in the tournament along with British teams.
The reigning individual champion is Chris Pampel from Germany. Leeds-based side Yorkshire Meds won the team event last year as The Handcross 49ers from Crawley came second.
It is understood that the competition dates back to 1588, during the reign of Elizabeth I. Back then, the marbles battle between two young men used to decide who would win the hand of a local milk maiden.
The event in its new format takes place each year on Good Friday at the Greyhound pub and has been conducted annually since 1932.
Game rules: Forty-nine target marbles are grouped closely together on the playing surface. Two teams of six players take turns to drive marbles off the ring by aiming a larger "shooter" marble called the "tolley" at the targets. A player's knuckle has to be in touch with the ground when he or she shoots, which is called "knuckling down".
Only the thumb can be used to direct the tolley. Moving the tolley closer to the target marbles is banned and known as "cabbaging", which is considered cheating. Any intentional or persistent contact between a player or his or her clothing and the tolley, while it is in motion constitutes a foul known as "blocking". The first team to knock out 25 marbles from the ring is the winner.
The championships are organised by the British Marbles Board of Control (BMBC). In West Sussex the marble season traditionally takes place between Ash Wednesday and Good Friday, with this competition marking the climax.