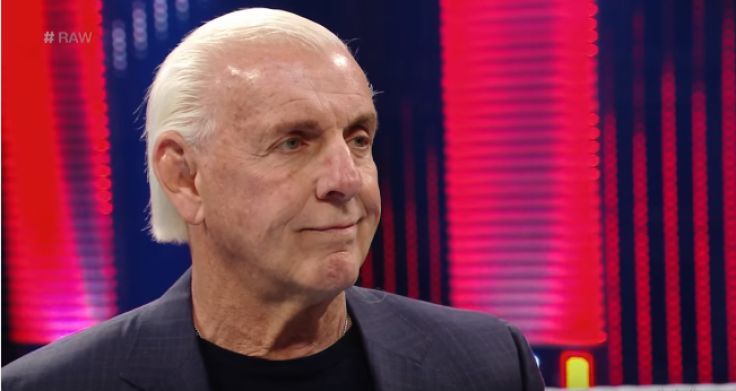 WWE legend Ric Flair is ready to throwdown with all Golden State Warriors fans.
The WWE Hall of Famer, who is a huge supporter of Cleveland Cavaliers, on Monday (5 June) took to social media to share a photo of his heavily bandaged arm and claimed that he sustained the injury by knocking out a Golden State Warriors fan.
"One Warrior Fan down! Left hand still good. Be in the Land on Wednesday!" he wrote on Twitter alongside the photo.
The Nature Boy also had a message for Rihanna, who is a fan of LeBron James. "Rihanna, Move over and Let the Naitch show you how it is done!"
Flair then shared another photo which showed his injured hand without the bandages. "No Pain No Gain! Lets do it @cavs WOOOOO!" he wrote.
He also told boxing commentator Max Kellerman to stick to his game while pointing out that Lebron James is no hype.
"Max Kellerman, no one tells the world KD is better than lebron james.....Read the poll- 76/24 ... Max, stick to boxing....." he said and added, "See you Wednesday night in the Land let's Discuss face to Face. Max Have You Really Played A Sport? If So Plz Elaborate!!"
Fans of the former WWE star also joined him on the topic.
"WOOOOOOOOO tell them CHAMP," one fan wrote, while another said, "Finally someone says it naitch. Stick to boxing max. WOOOO."
"James better pull pull a time machine out of his hat Wednesday/tittles chances are receding with his hairline!" a third said, while another added, "Sorry but Max is right. LeBron is and always has been all hype. KD is the man".