Popular YouTubers Jake Paul, Chance Sutton and Tessa Brooks – all part of a popular channel known as "Team 10" – have reportedly been targeted by hackers, with screenshots indicating that social media accounts have been compromised and personal chats leaked.
Text messages and Twitter DMs were exposed as a result of the cyberattack, according to We the Unicorns, a website dedicated to YouTube news and gossip. Online speculation suggested that explicit images may have been leaked but that is yet to be confirmed, the website added.
Following the incident, Sutton deleted his Twitter account after his profile name was changed to "I'm hacked" and displayed a slew of offensive messages.
According to We the Unicorns, some of the leaked message threads contained "explicit images" and "evidence of cheating", sending YouTube into an uproar.
Evidence left on Brooks' YouTube channel shows that it has been compromised by a hacker using the name "Snail". Video names included: "left team 10 joined #snailarmy" and "True Facts about the @wowcutesnail".
Other titles were reportedly changed to cryptic messages such as "how to install fraps by Oliver" and "big dad". Team10 is yet to officially comment on the hack.
The @wowcutesnail account remains online.
"This is not a group or a team," one tweet read. Others added: "It's not something to join. Snail is snail. Too many people have forgotten that. Snail started out as something to show that there is good in a community that's so terrible. Even at the centre of hacks."
A pinned tweet at the top of the profile reads: "Snails can't hack. Snails don't even have hands."
Meanwhile, Brooks' official Twitter account has been defaced to display a number of updates from the hackers. "@jakepaul supports #SnailArmy and you should too!" one reads.
At the time of writing, Paul's Twitter account appears to be untouched.
Shortly after the hack took place – seemingly on Tuesday 15 August – a new account claiming to be Brooks appeared online. "This is the real Tessa Brooks. @ImTessaBrooks sadly got hacked, me and Team 10 are currently trying to get it back," read a series of urgent updates.
And in an Instagram story, Brooks said: "Guys I am currently being hacked on everything. They have everything except my Instagram – they even have my phone number. I am so sorry, guys, whatever they say or do, if they say anything inappropriate or vulgar or rude I'm sorry."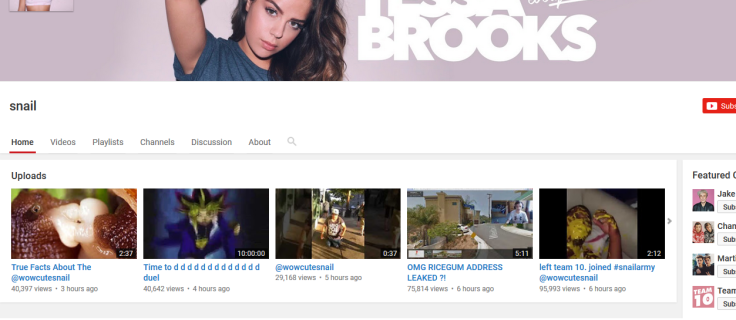 Team 10 is described on its YouTube channel as "a squad of young like-minded individuals who teamed up together to take over Hollywood" and currently has millions of subscribers. Jake Paul, who started on the now-defunct platform Vine, was recently let go from a Disney show.
In cases like this, hackers can usually exploit online accounts with weak passwords. Once inside they can wreak havoc by changing credentials. In this instance, it would appear that Team 10 members re-used similar passwords across social media, leaving accounts exposed.