Paintballing is no longer reserved for run-of-the-mill drunken stag dos looking to shoot each other with splatter guns but it's now turned into the latest craze for nerds looking for a bit of cardio.
While the stereotypical gaming geek may seem to be playing Resident Evil, Red or Dead, or various other heart attack-inducing computer games holed up in a gaming den (well, that's what I call mine) the latest set of zombie paintballing jaunts has swept the US and UK and threatens to pull the geek out of the home and into an abandoned warehouse.
No longer are gamers able to hide behind the sofa while screaming through a throng of the undead - players can now put their gaming skills to the test IRL (that's in real life to those in the know).
Abandoned warehouses, shopping centres and office blocks host a number of events where organisers place willing (and paying) participants in an alive or (un)dead scenario where for three hours or so they have to battle their way out of certain doom - with paintballs.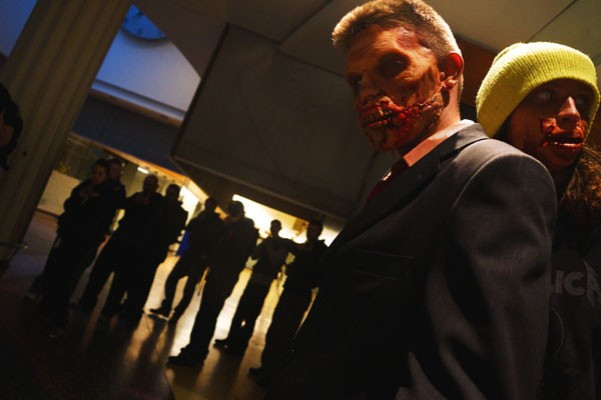 In the UK, one of the more famous events is the Zombie Battle - Abandoned Shopping Mall Experience, set in Reading, Berkshire.
The organisers have already confirmed more available dates until May 2013, due to the popularity. They previously organised a similar sold-out event set in an abandoned manor house.
One reveller said:
"l'll leave you with this absolutely pants-browning thought: part of the mall you go through is an abandoned childrens' play centre. ABANDONED. CHILDRENS. PLAY CENTRE. There are freakin' CLOWNS painted all over the walls. There are no lights, just some unnerving active shadows and shallow breathing around every corner."
The event promises: "We've prepared a bespoke, abandoned shopping centre in Reading, sprinkled to the gills with maniacal ZOMBIES lusting for your tender brains. You and your team will be depleting the zombie population with full Bronson-style perspicacity. Using state of the art special effects and large, blood-inducing props you'll tackle a series of computer game like missions in a full-on 'run and gun' gore fest."
It may be a lucrative vein that event organisers have tapped into, after statistics from American Sports Data showed that in the US alone, participation in the game rose exponentially from 5.9m to 9.6m players from 1998 to 2004.
SGMA, the trade association group for industry sports and fitness brands, said that the number of people participating in paintball each year has reached over 12 million people.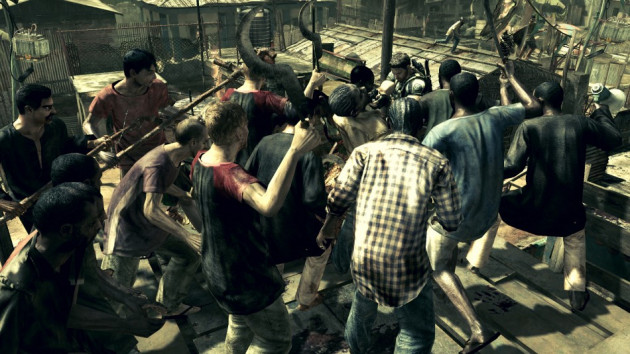 Zombies have also risen in popularity over the last few years, with franchises, such as Resident Evil bringing in the big bucks for maker Capcom. For example, its latest games release, Resident Evil: Operation Raccoon City sold over 1 million units and it is planning to release Resident Evil 6 shortly.
According to statistics by research house 24/7 Wall St, zombies earned the US a cool $5.74bn in the last 10 years through movies, games and comics.
Estimates show that movies and games accounted for $2.5bn each, while comics and magazines racked up $50m.
Zombie bootcamp
If that wasn't enough, zombies threaten to make the usual exercise-adverse geeks get into key cardio with Zombie bootcamp where the overweight and unfit can get in their marathon training by being chased by zombies.
And in some places around the US, where the recession may have taken its toll on some places, what is Detroit, for example, thinking of doing to revive its flagging tourism industry? Yup, you guessed it - zombies.
In this case a zombie theme park.
Z World Detroit, which is still looking for $145,000 in start-up capital, is set to transform the fortunes of the city, following suit from organisers in Atlanta where the Atlanta Zombie Apocalypse has "100,000 square feet of terror" and is scheduled to open 28 September this year.
According to the group which has constructed the park, it involves "a two-storey motel, ransacked restaurants, looted businesses, trashed offices, long and desolate hallways, sprawling courtyards, and expansive truck garages".
Well there is just one word of warning though for over-zealous nerds (and I include myself in this); it's advisable to read the T&Cs.
Zombie Battle - Abandoned Shopping Mall Experience says:
"Please be aware that live actors are used in this experience and can get injured or hurt. If your behaviour towards them is deemed too aggressive it is the supplier's right to remove you from the experience and you will forfeit your voucher."
Lianna Brinded is senior business reporter for IBTimes UK