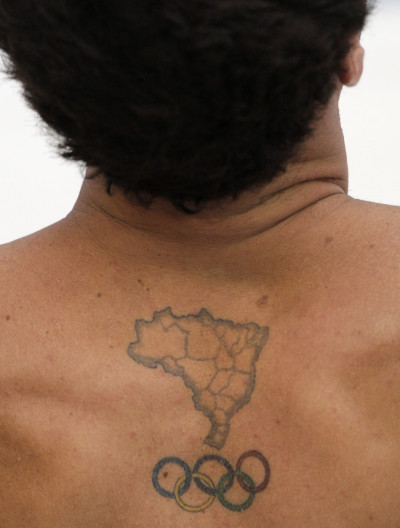 An excited Olympic torch bearer was left aghast after she realised the tattoo she got to mark her participation in the London 2012 games was spelt wrong.
Atlanta resident Jerri Peterson was selected to participate in the 2012 Olympic Torch Relay in Derbyshire and was so excited by the experience she decided to mark the moment with a special tattoo. Unfortunately, that was not as pleasant and happy an incident as she would have liked; it turned out her tattooist misspelled the word "Olympics".
The BBC reports the 54 year old American was one of 70 international employees, selected by the hotel chain she works for, to take part in the relay, as reward for her years of charity fundraising.
To celebrate the occasion, Peterson went to a "really good" tattoo parlor in Georgia, along with her friend, and chose a design with the torch logo, to be accompanied by the words "Olympic Torch Bearer" on her arm.
She walked out with a misspelled version - "Oylmpic Torch Bearer".
"I always wanted to have a tattoo but I never quite felt passionate about any one thing to have it put on my body permanently. So when I was selected for this wonderful honour, I thought 'that's it - I'm ready to have my tattoo'," the BBC quoted her as saying.
The spelling error was pointed out to Peterson by her friend, who noticed it after she sent a photograph of the tattoo.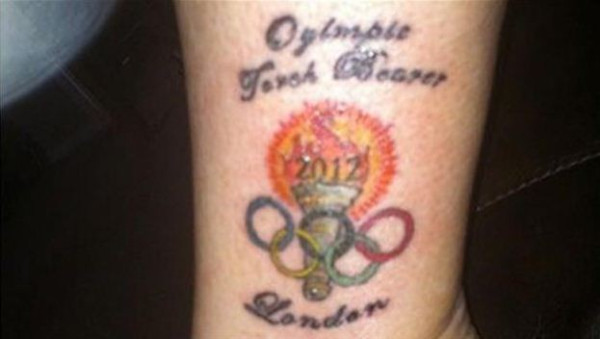 "I looked at it and I was so disappointed. I called my husband and he giggled a little bit," she added, "Then I started laughing about it and I've laughed ever since."
At the end of the day, Peterson was upbeat despite the blunder and even turned down the artist's offer to correct it.
"(The tattoo artist) felt so bad when he found out," she added, "He wanted to fix it but I decided I want to keep it. It's fine. It's the Oy-lmpics - it's as unique as I am."
Meanwhile, Peterson has proudly shared the image of her tattoo on social networking site Twitter.
"My new tat in honor of being an#olympictorchbearer in England this 30Jun," Peterson tweeted.
Click Start to see a slideshow of other amazing tattoos in honour of the Olympic Games