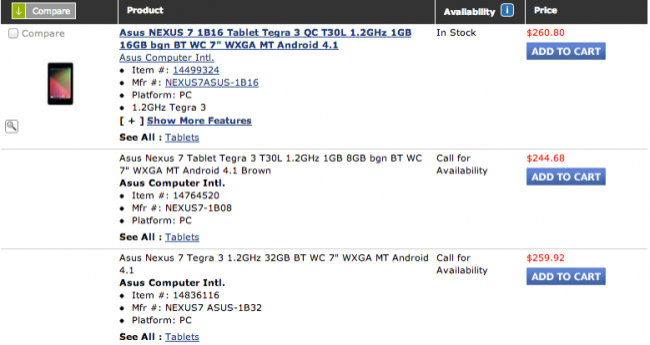 A 32GB Nexus 7 has been making headlines. This time, a Nexus 7 with an internal storage option of 32GB has popped up on one reseller's purchasing system, according to Droid Life. This indicates that Google could be gearing up to introduce a 32GB version of Nexus 7. The listing contains a section that invites customers to call their reseller to check on the device's availability.
The price of the 32GB Nexus 7 is given as $259.92. Apart from the 32GB variant, the listing shows up 16GB and 8GB models.
The 16GB variant of Nexus 7 is listed as $260.80, which is higher than the 32GB. Also, the 8GB Nexus 7 is priced at $244.68, around $50 more than the actual cost of the device.
"So don't take the pricing here as gospel. In fact, ignore it," claims Droid Life.
According to the site's source, the reseller is expecting to receive shipments of the 32GB of Nexus 7 around 24 October. In addition, the device is said to be a "special model". TheAndroidSoul notes this might mean a special limited edition of the device.
Recently, the 32GB Nexus 7 was spotted on a leaked screenshot of a database listing that is said to be from Carphone Warehouse in the UK. Currently, the Nexus 7 comes with two storage options - 8GB and 16GB - and lacks a microSD card slot. A 32GB variant could be an attractive option for customers.
The device could prove a tough competitor for several existing machines, notably the Amazon Kindle Fire HD and Nook tablets.