4,600-Year-Old Egyptian Pyramid Discovered in Edfu Predates Giza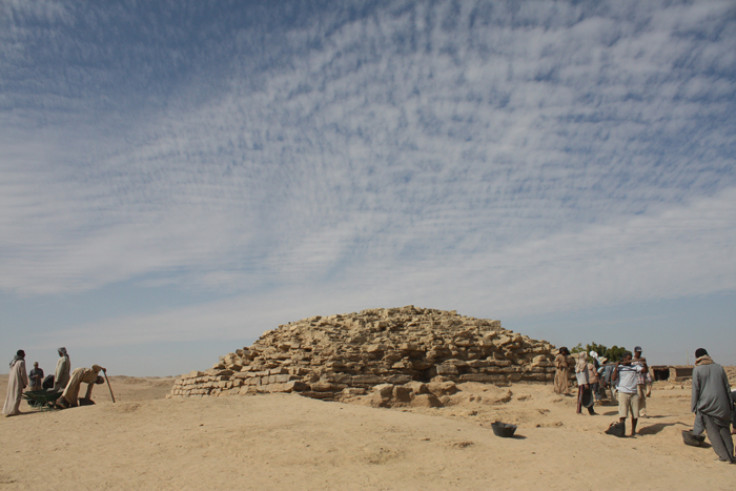 Archaeologists in Egypt have discovered a 4,600-year-old step pyramid in the ancient settlement of Edfu which predates the Great Pyramid of Giza by several decades.
The ruins of the pyramid, built from sandstone blocks and clay mortar, stand 16 feet high and the structure would originally have stood around 43 feet.
It is the seventh step pyramid to have been discovered at various locations across Egypt.
Known as "provincial" pyramids, these nearly identical structures are thought to have been built by either Pharaoh Huni, who reigned from 2635-2610 BC, or Pharaoh Sneferu (2610-2590 BC).
Food offerings
The step pyramids were not used for royal burial and contain no inner chamber. They are similar in design to the famous step pyramid built by Pharaoh Djoser (2670-2640 B.C.).
"The similarities from one pyramid to the other are really amazing, and there is definitely a common plan," Gregory Marouard, a research associate at the University of Chicago's Oriental Institute who led the work at the Edfu pyramid, told LiveScience.
Marouard and his team have found clues at the newly discovered pyramid that might indicate that the provincial step pyramids were used as symbolic monuments dedicated to the royal cult of the Pharaoh, who was considered a god on earth.
Remains of food offerings have been found on the east side of the pyramid site, while around the outer faces, hieroglyphic graffiti depicting a book roll, a seated man, a bird, a reed leaf and a four-legged animal has been engraved into the pyramid.
Hidden in the sand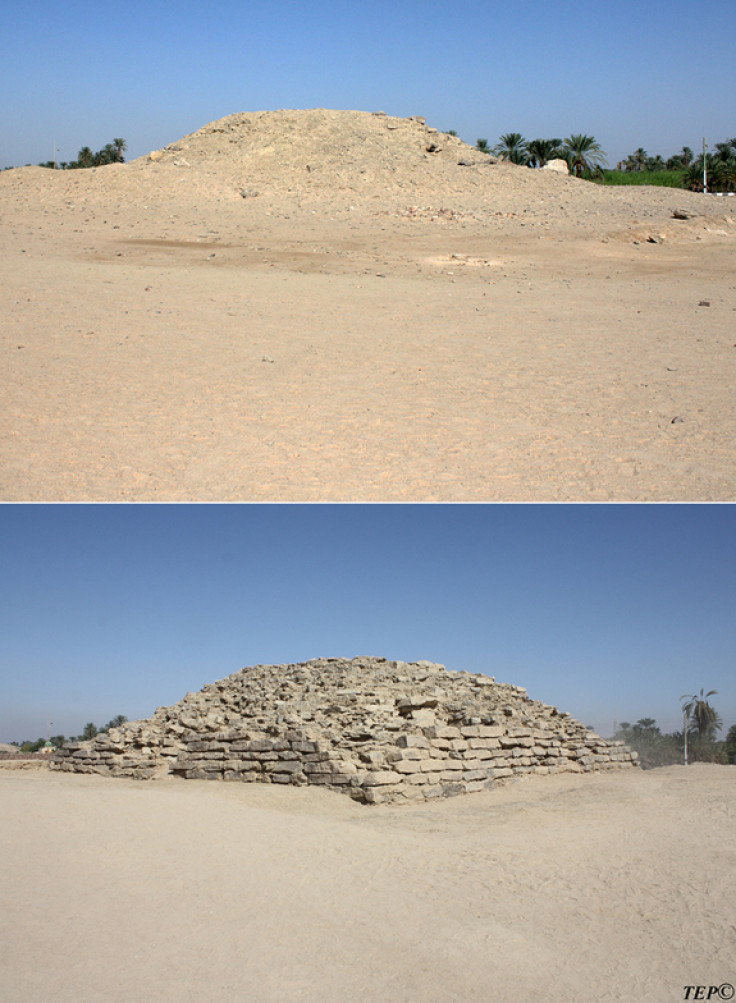 Before: A mound of sand and rock. After, a 4,600-year-old step pyramid.
Tell Edfu Project, University of Chicago's Oriental Institute
Remains of babies and children have been discovered at the foot of the pyramid beneath the markings, and archaeologists believe these remains were buried long after the pyramid was built.
According to Marouard, who began work with his team in 2010, scholars had long known about the existence of this pyramid, which was covered by a thick layer of sand, modern waste and broken stone from past pillaging attempts.
Ordinary Egyptians who live in a nearby village had long believed that the structure was actually the tomb of a sheikh, a local Muslim saint. It is believed that Pharaoh Khufu (2589–2566 BC) stopped maintaining these provincial monuments, instead directing his resources toward building the Great Pyramid at Giza.
Edfu, located on the west bank of the Nile, is also renowned for the Temple of Edfu, a temple dedicated to the falcon god Horus that was found almost entirely intact after being completely buried to a depth of 39 feet high.
It had been thought that the temple was actually a hill, and settlements had been built over the top of the temple site.
© Copyright IBTimes 2023. All rights reserved.