50 Cent Claims 'Fat-Boy' Rick Ross Staged Florida Drive-by Shooting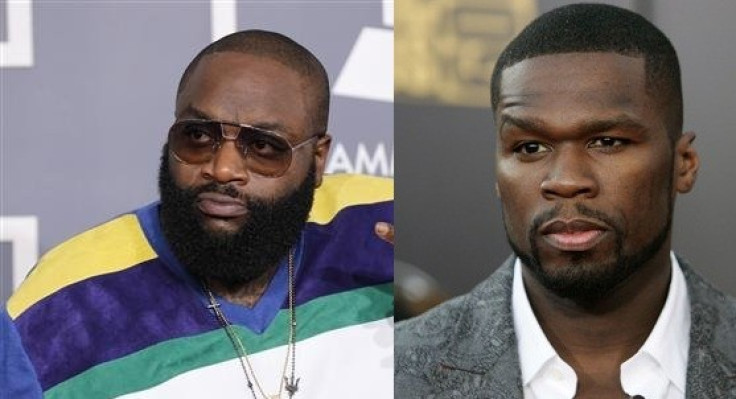 50 Cent has accused his rival musician Rick Ross of staging the drive-by shooting that led to him crashing a Rolls-Royce into a Florida apartment building.
In a string of outbursts on social media, the Get Rich or Die Tryin' hitmaker claimed that his fellow rapper's apparent brush with death in Fort Lauderdale looked staged.
"Hahaha fat boy hit the building? Lol it looks staged to me. No hole's in da car," 50 Cent tweeted to his 8.1 million followers.
To drive home his point, Fiddy - born Curtis James Jackson - later posted a photo of Ross's car on Instagram with the caption: "Hahaha that boy was spooked. I ride like OBAMA level 6 bulit proof bomb proof, you already know. [sic]"
Following his online rant, photos emerged of Ross's pulverised Rolls Royce with bullet holes in the tyres, bumper and lights.
Ross, whose real name is William L. Roberts, has reportedly increased his personal security after the incident, during which he and a female passenger reported hearing multiple gunshots being fired in their direction as they drove in Fort Lauderdale.
Neither of the car's occupants were hurt, and the shooting suspects apparently fled before police arrived on the scene.
Fort Lauderdale police have confirmed that they are treating the shooting as an "an active and ongoing criminal investigation".
The alleged drive-by comes just weeks after Ross was forced to cancel several US concert dates after allegedly receiving death threats from the North Carolina branch of the Gangster Disciples. They are said to be angry over Ross's use of their logo for his mixtape Black Bar Mitzvah.
RapRadar.com's Brian Miller claimed that Ross's success was to blame for the drive-by.
"It seems like there are a lot of people angry at him for unknown reasons, whether it's in his own hometown or while being on the road," he said. "I guess that comes with being one of the hottest in the game."
© Copyright IBTimes 2023. All rights reserved.