5000-year-old sun and spiderweb-carved stones discovered in Denmark could be Stone Age coins
The artefacts were found at the archaeological site of Vasagård, on the island of Bornholm.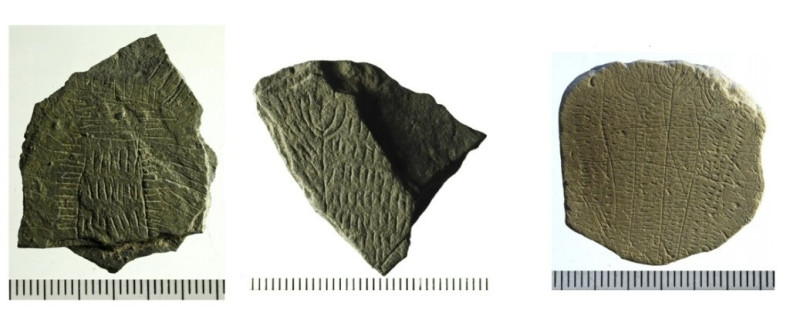 Archaeologists have discovered a trove of over 300 engraved stone pieces in Denmark. The Stone Age artefacts were found at Vasagård, and archaeological site on the island of Bornholm in the Baltic Sea.
According to The Copenhagen Post many of the stones feature carvings depicting the sun and have been dubbed "sunstones" or "solsten" in Danish. Others have symbols resembling fields and grain while some also have spider web designs.
Researchers believe the stones may date back 5000 years but are unable to confirm their particular use. "That is the million dollar question," Lars Larsson, a professor emeritus at the University of Lund in Sweden, told videnskab.dk. "It is impossible to know precisely what they were used for."
Finn Ole Sonne Nielsen, the lead archaeologist at Bornholm Museum, who collaborated with the National Museum of Denmark, Aarhus University, and the University of Copenhagen on the excavation, believes they may have been used as prehistoric coin for various purposes.
"Many of the stones are very worn, so it looks as though someone has walked around with them in their pocket," he noted. "The Vasagård area has the appearance of a Stone Age society."
Similar sunstones have been found on Bornholm before, the earliest being discovered in 1995 at another cultural site, Rispebjerg, around 8kms east of Vasagård.
"We've known about sun stones for a while, but the field stones are something entirely new – just yesterday we found four – and the variation among them with spider webs is something we didn't know existed," Nielsen added.
According to Science Alert, experts have hypothesised that certain pieces were used for particularly specific reasons. Those that looked to be deliberately broken and burnt were mostly discovered in ditches thought to have been temporary burial sites. This would suggest that the stones might have been used in funerary ceremonies.
Others may have been used as counting coins, or for use at temples and during religious rites. They may have also been considered charms for good luck that were carried around on the person.
Flemming Kaul of the National Museum of Denmark suggested that the stones bearing field and grain markings could have used in harvest rituals. "I imagine that at a certain time of the year you had some magic rituals where you held a sun stone and let them pass over the stones, which by all accounts depict fields. The new stone opens up an entirely different understanding of the Stone Age worship of deities," he said.
Even today, Bornholm is often referred to as the 'sunshine island' and according to the study of Vasagård, the sun was given special recognition, even in prehistoric times. It was considered a religious site during the Neolithic period, between 3,500 BCE and 2,700 BCE and researchers believe it may have been a temple devoted to sun worship considering the entrances to the complex lined up with the sun at the solstices.