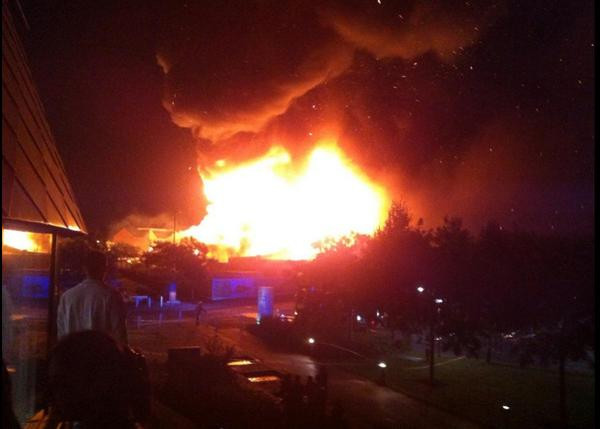 Fire-fighters are battling to bring a " major blaze" under control at Nottingham University.
According to reports, the "significant incident" began at approximately 8.30pm at the GlaxoSmithKline building on the Jubilee Campus.
The site is under construction and unoccupied. The carbon-neutral building, which was due to be opened early next year, cost £15.8m and would have had enough laboratory space for more than 100 researchers.
Some eyewitnesses on Twitter have claimed that the complex has been "completely destroyed".
As 60 fire-fighters tackle the burning building, Nottinghamshire Fire and Rescue have warned residents of "flying debris."
The service tweeted: "Help our crews by staying away from the Triumph Rd area & close doors & windows if you're local."
In a statement, university registrar Dr Paul Greatrix said: "Thankfully, there have been no casualties as this is a building that was still under construction."Our number one priority is to ensure that the fire does not spread to other buildings in the vicinity."
Police have deployed a helicopter in a bid to assess how far the fire has spread.
No injuries have been reported so far, while the cause of the blaze is unknown.