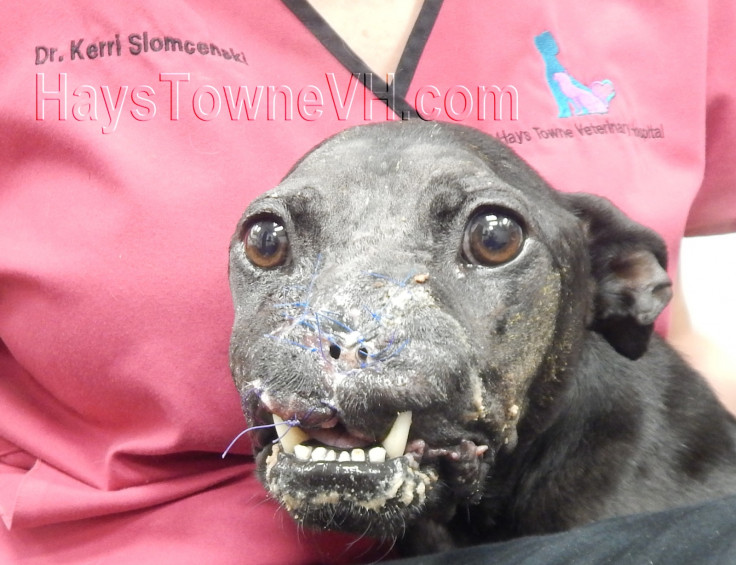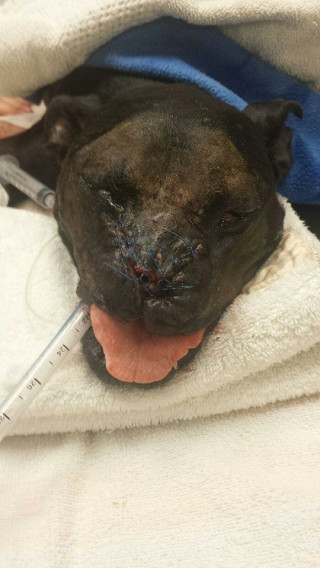 A pitbull from Florida, US, has been given a new nose after her upper jaw was cut off by her owners in a horrific case of animal abuse. Khalessi, named after the Game of Thrones character, was rescued by Passion 4 Pits after being found in an Orange County shelter facility.
She was emaciated and her spine, ribs and kneecaps had been broken, leaving her struggling to walk. As a result of her injuries never healing properly, her hind legs atrophied and she walks dragging them behind her. Rescuers say she was forced to fight and breed, even being beaten while pregnant with her puppies.
Even more horribly, her upper jaw and nose had been cut off completely, leaving a huge open wound that had not healed. It was so severe that scar tissues had grown over her nostrils and she had to breathe through her mouth.
After sharing her story, Hays Towne Veterinary Hospital offered to provide reconstructive surgery to give her back her face. She has now undergone the first of a number of operations and will eventually be put back together.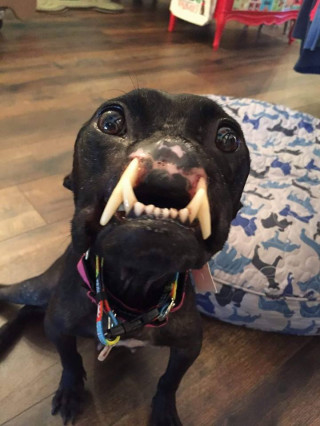 "Her attitude is great, here energy level is great, she wants to be a great dog," vet Kerri Slomcenski told News Channel 8. "She wants to love people, gives kisses happy tails. The concern I have is surgery she's gonna need. There's going to be a lot of rehabilitation."
Posting a photo of the successful surgery on its Facebook page, Passion 4 Pits said: "Khalessi has a nose again! We just started crying over this picture. Khalessi will remain hospitalized for at least a week.
Hays Towne Veterinary Hospital added: "As you can see, she just finished her first meal… and obviously enjoyed it very much. This is probably the first meal she has been able to smell in quite a long time. We are cautiously optimistic that her reconstructive surgery will stay intact. Khalessi has a long recovery ahead of her, but this is the first step in the right direction."
Police have now opened an investigation in Orlando to try to find the person responsible for abusing Khalessi.