The Acer Aspire TimeLine M3 Ultra laptop packs a punch but does it trade portability for power?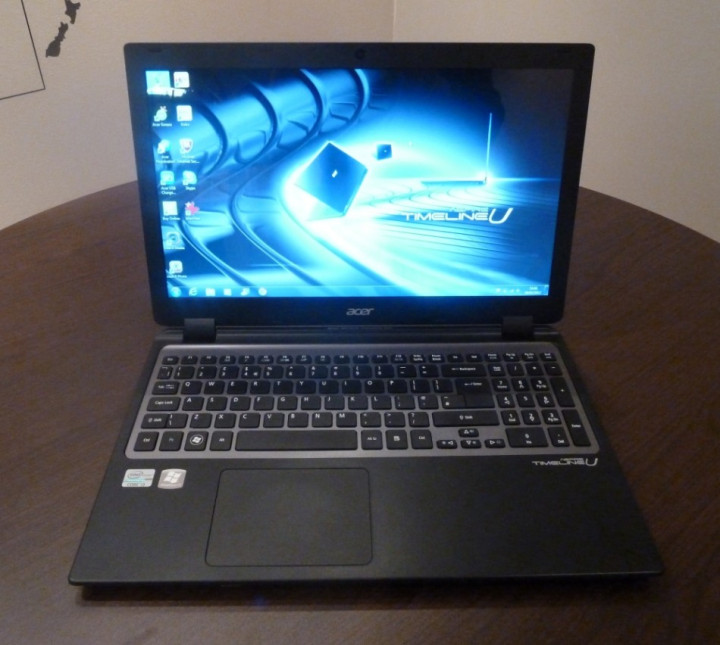 Key Features:
15in, 1,366 x 768 screen
Up to Core i7 with 6GB RAM
320GB - 500GB HDD
Nvidia GeForce GT 640M
DVD rewritable drive
Price: £499-£849
Acer Aspire TimeLine M3 Ultra: Design
The Acer Aspire TimeLine M3 Ultra has been packaged in a classy matt black exterior and interior, with only the black qwerty keyboard framed on a grey background.
That makes it a wise choice if you are looking for a laptop powerful enough to handle gaming but don't want to tip off your boss by choosing a machine covered in go-faster stripes or loud colours.
It's pretty slim for such a powerful machine at 20mm thick but do not be fooled by those alluring images alone. The other important measurements relate to the machine's footprint, and measuring 375mm x 252mm, we struggled to fit this into the small laptop backpack we usually cart an Ultrabook around in.
At 2.25kg it is also a noticeable addition to your holdall. We would mark this Acer laptop out as a great replacement for a desktop machine and portable on occasion, but ultimately too large for day-to-day transportation.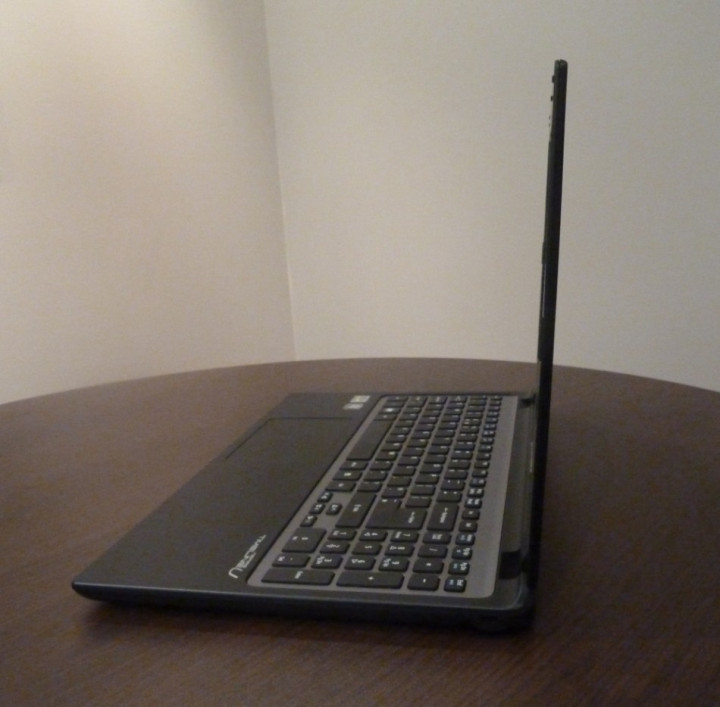 Acer Aspire TimeLine M3 Ultra: Keyboard and touchpad
While being perfectly useable in a pinch, the keyboard was not the best for every day, all-day typing.
At least the qwerty keys themselves are large and have enough bounce to make keystrokes easy to perform, even if they are spaced a little too far apart.
However, it was the positioning of keys such as Delete, Backspace and End that slowed our typing. The End button in particular seemed to attract our finger when we were actually looking to forward-delete a character, forcing us to us drag the cursor back to the right spot in our document each time.
The trackpad also failed to impress. Hitting the spot where the left and right mouse buttons would normally appear triggers those functions but was too hit and miss.
It would be easy to get around those issues by pairing the M3 with a proper keyboard and a wireless mouse, making even more of an argument for this being a desktop replacement machine. The asbsence of backlighting on the keys is also a pity, meaning typing in the dark is out of the question.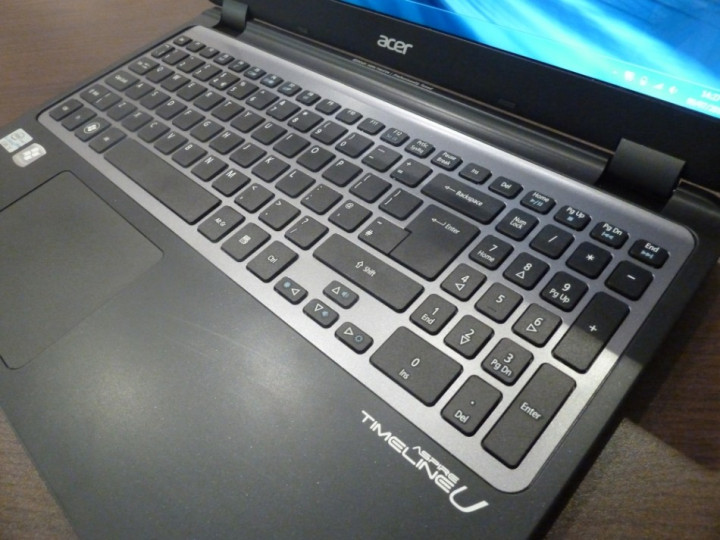 Acer Aspire TimeLine M3 Ultra: Screen
Unusually on a laptop this size, the screen resolution is only 1,366 x 768 pixels rather than the 1,600 x 900-pixel screens often found on 15in machines.
While those specs might seem underwhelming on paper, in practice the M3 performed well. HD playback from the BBC iPlayer looked crisp, while DVD playback was very watchable.
That does not tell the whole story, though and the big fail of a laptop this large is that the person in the centre gets the best view, while those at the sides enjoy a slightly reduced experience. Colours fade and the contrast changes the further to the right or left you are placed.
That is disappointing on a screen big enough to be shared as a TV replacement if you happened to be travelling, especially as the sound has been tuned by Dolby to give a home theatre feel.
Acer Aspire TimeLine M3 Ultra: Performance and Battery
The version of the Acer Aspire TimeLine laptop we tested came fitted with an Intel Core i3 2367M 1.4GHz processor and 4GB RAM.
It ran Windows 7 Home Premium 64-Bit edition and also supposedly featured a 256GB HDD, although it actually registered 282GB storage.
The piece of kit that makes it such a draw for gamers is the inclusion of an Nvidia GeForce GT 640M gaming processor, which comes as standard on all models.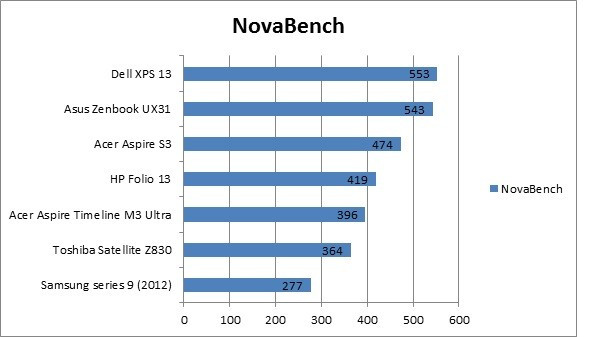 It was a surprise then to see the M3 Ultra only score 396 overall in the NovaBench test, which puts the CPU, hard drive and graphics processor through their paces.
That places it behind most of the Ultrabooks we previously tested, including the Acer Aspire S3, the HP Folio 13 and the Asus Zenbook UX31.
It is important to note that some of those Ultrabooks came with much higher specs and this Acer model can be purchased as a more powerful version that includes an Intel Core i7 1.7GHz chip, 6GB RAM and a 320GB hard drive.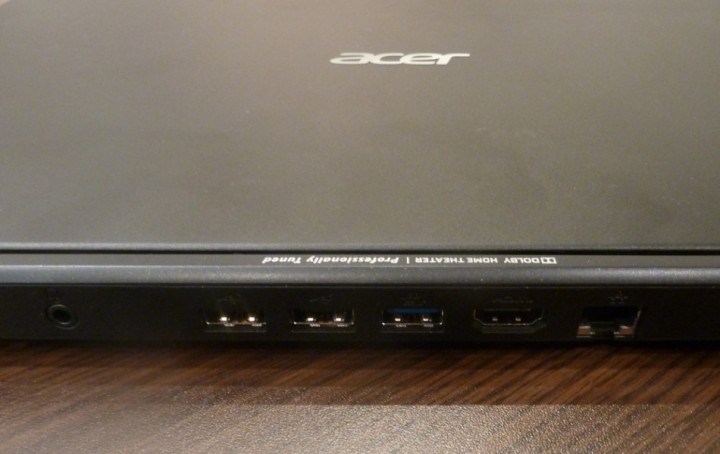 Acer Aspire TimeLine M3 Ultra: Connectivity
Connections on the M3 laptop include a 3.5mm headphone jack, two USB 3.0 ports, a USB charging port that can power devices even when the PC is turned off, an HDMI port and an RJ45 wired connector.
Our big annoyance is that all of these features are placed on the back of the machine. The only things seated conveniently at the side are the security slot used to lock the laptop to a desk and a DVD rewritable drive.
Putting even one of the USB slots on the side would have made a big difference and that headphone socket should really be on the front where it is more accessible.
Working with this PC sitting on our lap came with the worry that we were unknowingly putting pressure on a thumb drive sitting in one of the ports at the back.
The TimeLine M3 Ultra also uses Bluetooth 4.0, although that other Blu component - a Blu-ray drive - was missing as it seems to only have the option of DVD.
Acer Aspire TimeLine M3 Ultra: Verdict
At around £499 for the lowest spec versions of the Acer Aspire TimeLine M3 Ultra, it would now be almost possible to find an Ultrabook that fits the bill (and also fits in your bag) for the same money.
If you are going to be lugging your laptop around a lot, you owe it to yourself to head over to that aisle marked Ultrabooks and browse that collection instead.
Where Acer scores top marks with this machine is as a desktop replacement for a boxy PC.
Pairing it with a decent wireless keyboard and mouse removes any usability issues and when it is just pandering to your needs and you are directly in front of it, that selfish screen works well.
Fifteen inches offers acres of desktop real estate for browsing and switching between multiple documents and means you can do without a monitor for less desktop clutter.
Score:
Overall: 7/10
Battery Life: 7/10
Design: 9/10
Performance: 8/10
Features: 8/10
Screen Quality: 6/10
Value: 6/10
The Good
Nvidia GeForce GT 640M graphics acceleration
Great as a stylish desktop replacement
The Bad
Poor keyboard and touchpad
Weight and size hampers portability