Acer Iconia Tab A110, a 7in tablet, is expected to come to the UK in September. The tablet was unveiled at Computex Taipei in June. Speculation was rife that the tablet could be a tough competitor to Amazon's Kindle Fire, but ever since it was unveiled there was no information about the tablet. The Iconia Tab A110 is now expected to be released in the UK at the end of September costing £179, according to Stuff.tv. The company has not made any official announcement regarding the tablet's release date.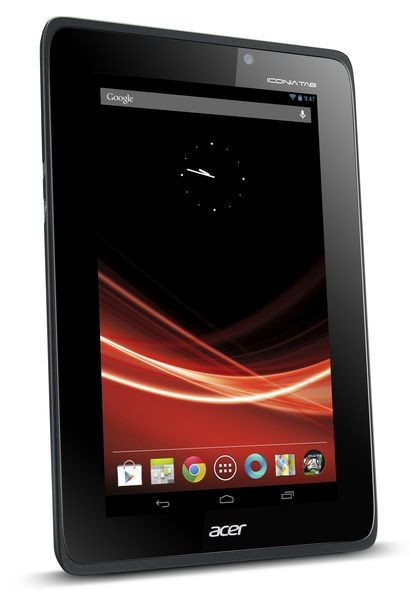 The Acer Iconia Tab A110 has surfaced on Ebuyer.com, the online UK retailer for electronic goods. According to the site, the product listing shows that the device is stated as coming with Android Ice Cream Sandwich 4.1.
"This also stinks of SEO optimization from a mile, although it could only be an innocent spelling error. Or, but this a very long shot, the 7-incher might actually be running Android 4.1 Jelly upon its release, and not ICS," claims Android Authority.
It is not certain if the device will come with Jelly Bean or ICS.
The tablet market is getting crowded with 7in budget friendly devices. In June, Google unveiled the Nexus 7 tablet. the first to run Jelly Bean and comes with a price tag of £159. The tough challenger to Kindle Fire is now speculated to compete with the Iconia Tab A110. In terms of storage, the Iconia Tab A110 seems to have an edge over Nexus 7. Nexus 7 lacks a microSD card slot, while the Iconia Tab A110 supports a microSD card slot.
The Iconia Tab A110 is reportedly powered by quad-core Nvidia Tegra 3 processor. It packs 8GB of internal storage, microSD slot, HDMI and a front-facing camera. The 7in display comes with a whopping resolution of 1024 x 600 pixels.