Chinese e-commerce giant Alibaba Group's initial public offering on the New York Stock Exchange is officially the largest in history at $25bn, after the firm and some of its stakeholders sold additional shares.
Underwriters on the Alibaba deal exercised an option to sell an additional 48 million shares, Reuters reported, after strong demand saw the New York share sale raise $21.8bn (£13.3bn, €16.9bn) and boost Alibaba's stock by 38% on its trading debut on 19 September,
At the end of the day's trade Alibaba's market value was $231.44bn - more than the combined market caps of Amazon and eBay.
To claim the title of the world's largest IPO, Alibaba's stock sale beat Agricultural Bank of China's (ABC) public offering, which raised $22.1bn in 2010.
Who Sold What
Under the option, Alibaba agreed to sell 26.1 million additional shares, while Yahoo agreed to offload 18.3 million shares, earning the firms an extra $1.8bn and $1.2bn respectively.
Alibaba founder Jack Ma agreed to sell an extra 2.7 million shares while company co-founder Joe Tsai agreed to sell 902,782 additional shares, according to the prospectus.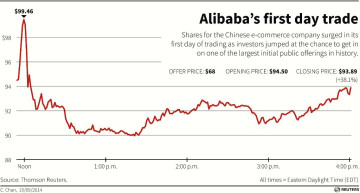 Underwriters on the Alibaba deal included Citigroup, Credit Suisse, Deutsche Bank, Goldman Sachs, JPMorgan and Morgan Stanley.
Meanwhile, Rothschild, which did not have underwriting operations, advised Alibaba on the deal.
Ma founded Alibaba 15 years ago in a one-bedroom apartment in Hangzhou, China.