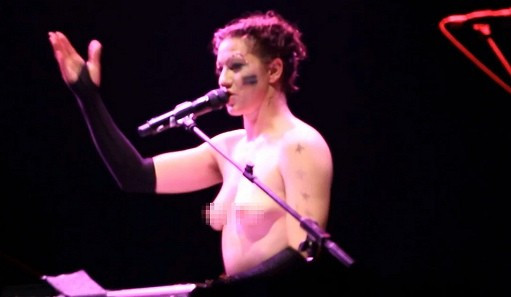 Singer Amanda Palmer has lambasted the Daily Mail as a "rag" which "debases women's appearances", after the right-wing tabloid mocked her wardrobe malfunction at Glastonbury.
The Mail had claimed the Dresden Dolls singer "made a bit of a boob of herself" when she ripped open her shirt during her set at the iconic British festival, just as her breast "escaped" her bra.
The Mail described Palmer's slip as "an embarrassing wardrobe mistake" and published several photos of her exposed breast.
In response, Palmer delivered a specially-penned jingle to startled fans at the fashionable Roundhouse venue in Camden, north London.
In her angry polemic, which she told fans she had written "an hour ago", Palmer excoriated the paper for its attitudes to women, and derided its journalists as a "misogynist pile of tw*ts".
"Dear Daily Mail, it's so sad what you tabloids are doing," she sang. "Your focus on debasing womens' appearances, it devolves our species as humans.
"But a rag is a rag, and far be it from me to go censoring anyone oh, no / It appears that my entire body is currently trying to escape this kimono."
Staying faithful to the epistolary form, she declared herself "tired of these baby bumps, vaj flashes, muffin tops", before delivering her coup de grace: "Though there be millions of people who'll accept the cultural bar where you have it at / There are plenty of others who're perfectly willing to see breasts in their natural habitat."
Palmer then stepped out of her robes and into her birthday suit, drawing gasps from the crowd and telling them: "Shhhh, it's just a naked woman!"
She then bowed out with a chorus that put the offending organ firmly in its place: "Dear Daily Mail... Up yours!"
Palmer was able to bring in almost £800,000 towards her new album, together with companion book and tour, after leveraging her considerable social media presence to raise the sum.
Footage of Palmer's Roundhouse performance has now been posted online, attracting hundreds of thousands of viewers.