An Amazon customer says a 10-inch dildo mysteriously appeared in his shopping cart on the online retailer's website after he left negative feedback about their customer service on a user feedback satisfaction survey.
IT contractor Pedro (surname not given), who lives in Ireland, ordered a specialised textbook from Amazon.de in October 2015 that he needed for an art class. However when it arrived, it turned out to be the wrong edition. As Amazon.de was the only Amazon website that he could get the textbook from, Pedro persevered, getting in contact with their customer service to try to get the right version.
Unfortunately, despite communicating back and forth, waiting for Amazon to locate the textbook in its warehouses and searching for the correct version himself online, customer service reps eventually told him that they were unable to find the textbook. They advised that he return the book he had been sent and that they would then give him a full refund, according to Ars Technica UK.
Pedro was not overly impressed by his shopping experience, so he left negative feedback about Amazon's customer service on a feedback satisfaction survey. The very next time he logged on to Amazon.de, he found that a rather large dildo – specifically a product named "The Hulk 10.25-inch Huge Dong Black" – had been added to his shopping basket.
Pedro took a screenshot of his shopping basket and emailed Amazon, asking them what was going on. Only after his complaint bounced between a number of customer service representatives did it finally end up with Andreas Mühlbauer of the "Executive Customer Relations" team at Amazon.de.
It is possible for Amazon reps to access shopping baskets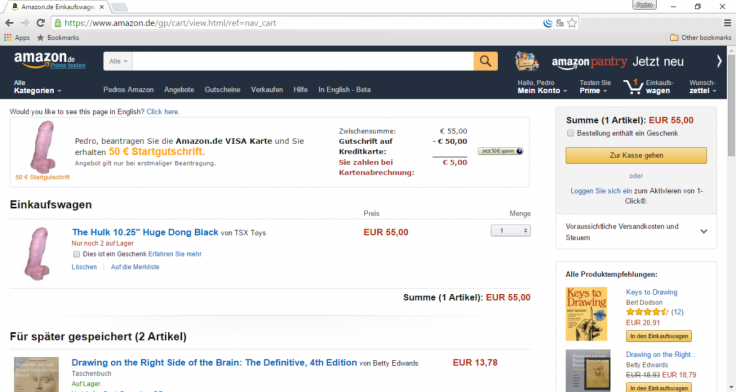 After several emails, Pedro was able to speak to Mühlbauer on the phone, who apologised profusely and added a €100 voucher to his Amazon.de account. However, while Mühlbauer did confirm that it is in fact possible for Amazon customer service representatives to access a user's shopping basket, and he really couldn't understand why an Amazon employee would do such a thing, he was not allowed to disclose how Amazon was dealing with the employee in question.
Ars Technica UK tried to chase Amazon down about the matter, but after two months of communicating with Amazon, the online retailer has yet to give comment. It has not denied the incident occurred.
"I called Amazon and one of the very first things I asked them is: Can you tell whether an item has been added by a customer or a rep at a shopping basket? They told me that yes they could as there are information associated to items added to a basket (e.g. user agent strings, IPs, whatever). They told that they would investigate," Pedro wrote in a comment on the Ars Technica article.
"If this has been a prank by a close friend, or a sibling – I would find it hilarious. But I cannot accept the customer service of a company I am paying patronage to act so familiar, particularly in [alleged] spite of a bad review... I am sure that some of you might have a 'wider' tolerance threshold towards strangers acting so unprofessionally towards you – but I do not. I was a customer service [rep] once and if I ever ever did something like this I would have been into deep sh*t – and I will not hold others to a lesser standard."
As unlikely as it seems, service reps retaliating against customers is not unusual. In February 2015, frustrated customers with US internet and cable TV provider Comcast found that when they received printed bills or mail correspondence from their provider, their names had been changed to include unsavoury terms like "super b***h", "dummy" and "a**hole" in response to the customers complaining repeatedly about unresolved service issues.