Amazon.com Inc. announced the new Kindle Touch today, alongside a new standard Kindle and the Kindle Fire.
With a retail price starting at $99, the Touch has no buttons at all. It instead relies on a touch screen for reading and navigation. A user of its infrared touch system taps on the right to move forward a page and taps on the left to move back a page.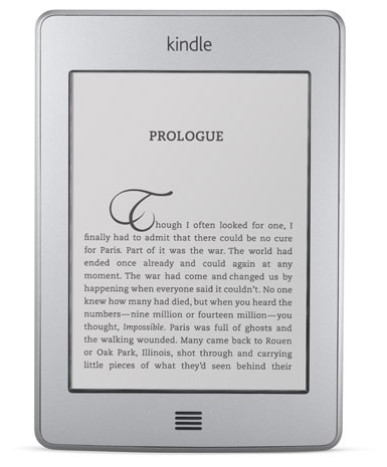 The Touch is available in several guises. One is a Wi-Fi model that is advertising-supported and priced at $99. These ads appear as screen savers when the Kindle is locked. The ads are location-based, meaning users should be served ads that are relevant to them wherever in the world they happen to be.
There is also an ad-free Wi-Fi model, which will retail for $139.
A model with both 3G and Wi-Fi standards is priced at $149. It offers lifetime global data roaming for a one-time payment of $49. This means Internet browsing and book downloads can be done in over 100 countries for free, after the one-time cost.
Pre-orders for the Kindle Touch are being taken by the U.S. Amazon.com store today, with shipping to begin Nov. 21. The Touch is currently a U.S.-only product.