Drama at the Ryder Cup is usually reserved for the three days of competition but ahead of the 41st edition at Hazeltine one American fan ensured the sporting theatre started 24 hours early. Team Europe's Rory McIlroy and Andy Sullivan were left stumped by a putt on the sixth green during their final practice round - however it proved to be a worthwhile challenge for one spectator in Minnesota.
McIlroy and Sullivan were subject to light-hearted taunts from David Johnson from North Dakota as they struggled to hole out on Thursday [29 September], the day before attempts to claim an unprecedented fourth Ryder Cup begin against Team USA. Playing partner Henrik Stenson then invited the fan onto the green in an opportunity to walk the walk.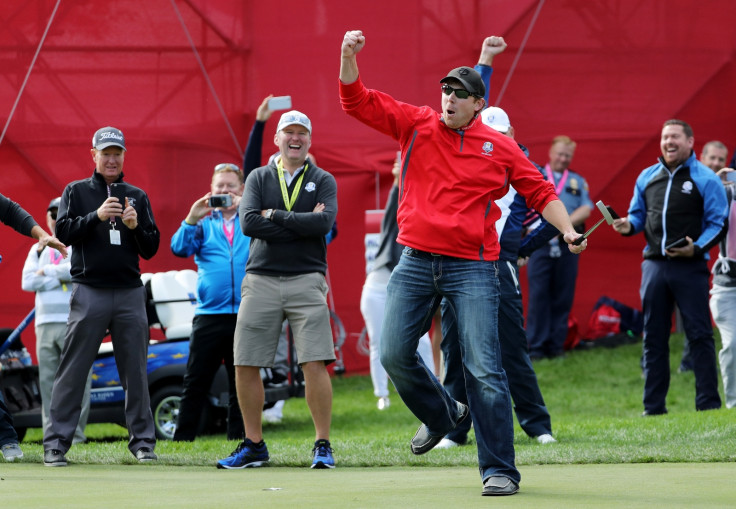 Olympic gold medallist Justin Rose offered Johnson $100 to sink the putt and in front of a packed crowd he kept his nerve to find the middle of the cup from fully 12 feet. While McIlroy and co. were left astounded, the American crowd and Johnson went wild in what they all hope will be the first of many celebrations over the next few days. Click below to watch the footage via McIlroy's Instagram account.
The Open champion Stenson said: "We played a match against Andy and Rory and they had a putt and Andy didn't make it, and they tried again to get the right line. Someone in the crowd yelled I could have made that, so we let him have a go. All credit to him – Rosie put 100 dollars down and the guy drilled it in the centre. He would have been chipping if it didn't go in, but all credit to him for making it."
Rose added: "I thought it might make it a bit more real for him, but clearly not. The boys were cupping out, missing it low and this guy just got the ball out and ripped it into the middle. Fair play to him and he celebrated in style. It's fun. We are doing what we should be doing out here - having fun. We are preparing, we are focusing but you have to enjoy it. That's how you get the most out of it. Even tomorrow you have to enjoy it."