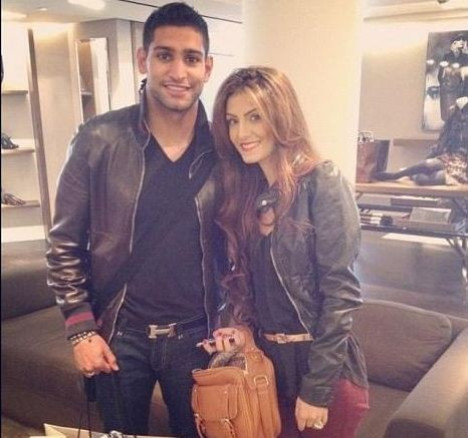 Former two-time world boxing champion Amir Khan is again mired in controversy after cheating on his fiancée Faryal Makhdoom with two women on the same day.
According to a report in the Sun, the 25-year-old "was surrounded by girls" in Marbella, Spain during a holiday with his friends.
Solicitor Tanya Reed described her encounter with the boxer and claimed that he kissed her in a hot tub once she undressed to her innerwear.
"I'd left my shoes on so I didn't lose them but he ripped them off and threw them out of the pool. Then he started kissing me and I thought 'I'm kissing Amir Khan'," she said.
The 26-year-old admitted that she was unaware that Khan was engaged.
"Now I know he's engaged I think he's an absolute slimebag. I feel sorry for her. If I could say anything to her, it would be 'Don't marry him because he is a cheat.'
"He properly came on to me. I didn't have to do anything."
Before meeting Reed, the sportsman spent time with promotions girl Natalie Kane, at a champagne party at the resort's Ocean Club where bikini-clad girls shake bottles of bubbly and spray it around the poolside, the newspaper reported.
"Natalie and Amir were together most of the day. He was pouring champagne in her mouth and at one point they slipped in the pool together," said a source.
"He picked her up and they fooled around splashing each other. He was throwing her into the air. They looked like they were having the time of their life. Natalie was flattered by Amir's attention and she thought he was very good looking".
"She had no idea he was engaged and he didn't mention Faryal at any point. He had the time of his life down here and was constantly surrounded by gorgeous girls. You'd never have guessed he had a girlfriend," the eyewitness added.
The duo reportedly met on four consecutive days and Kane also spent two nights at his holiday villa.
Meanwhile, a spokesman for Khan has denied the allegations and said: "While our client does accept that he and some friends were in a Jacuzzi in Marbella and that there were women there and some light-hearted byplay, our client did not have sex with any woman on that trip."
Khan and 21- year- old New Yorker got engaged on 29 January in a lavish £150,000 public ceremony attended by stars including Wayne Rooney, Rio Ferdinand, Ricky Hatton and David Hay.