Former world chess champion Viswanathan Anand has revealed that defeat in Game 5 to Magnus Carlsen had a psychological impact on the remaining games played in the 2013 World Chess Champion.
The Indian master lost the championship title to the 22-year-old World No 1, who won the prestigious crown after Game 10 ended in a draw. Anand lost Game 5, Game 6 and Game 9 as the final score after 10 games saw the Norwegian take a lead of 6-5-3.5.
Anand's carelessness and errors in Game 5, Game 6 and Game 9 saw Carlsen take full advantage as defeats for the Indian saw him trail the new world champion by three points. However, the 43-year-old admitted that his counterpart forced him in making those errors.
"The way I lost the fifth game is the way I thought I could not afford to lose. A fine position in the opening, then a slip. The fifth game was a heavy blow. I really hoped not to be afraid of him in long games but simply match him. This was not to be," Anand said after Game 10.
"After that it became worse and worse. I guess when it rains it pours. It is fair enough to congratulate him. My mistakes did not happen by themselves. Clearly he managed to provoke them. Full credit to him."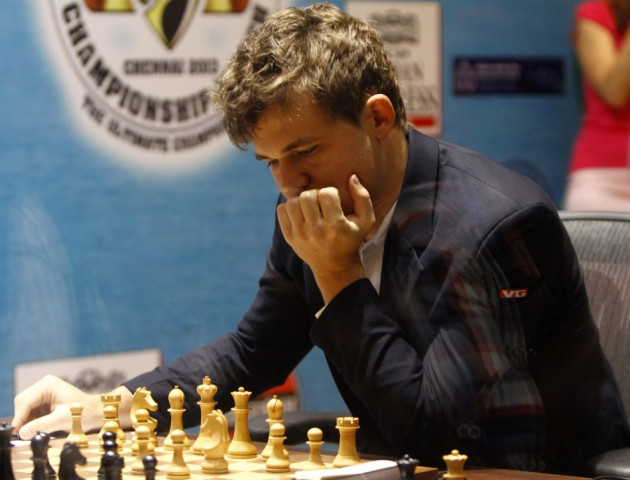 Game 10 saw Carlsen and Anand settle for a draw as half a point is what the Norwegian needed to push the Indian for the world championship title. He admitted that Carlsen dominated the game and his blunder of Qg5 saw him lose control over the game.
"I was trying to keep playing. At some point started to make mistakes. I simply blundered Qg5. I saw the same tactic for Qc5 but I simply put the queen on g5. And the same e5 happened. I simply don't know the evaluation after that. This knight ending is very dangerous," the 43-year-old added.
"As the match in general, it is clear that he dominated. At the start of the match I thought my chances depended on my ability to last long games without making a lot of mistakes. This year I had lot of problems creeping into my play. I kind of try to pay some attention to that. In the end it was in vain."