A growing range of small and affordable tablets has seen Android overtaken Apple's iOS for the first time, as Samsung, Amazon and others see growth of more than 200% since last year.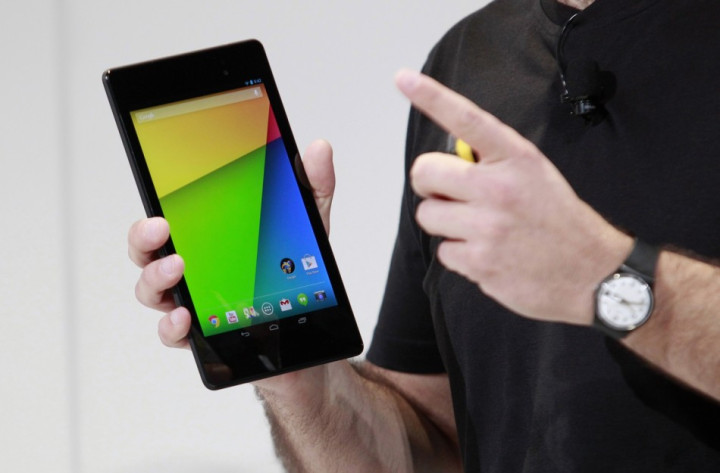 According to worldwide tablet shipment figures by Canalys, Apple shipped 14.6m iPads in the second quarter, giving it a 42.7% share of the market, but this share is down 14.2% on the same time last year, while rivals Samsung, Amazon and Lenovo each saw increases in their share of 295%, 266% and 317% respectively.
This growth, along with Acer improving its shipments figure by 228% on last year, saw Android attain a 53% share of the tablet market, overtaking Apple for the first time as the Google operating system rises in popularity thanks to a diverse range of products covering many prices, designs and screen sizes.
"Consumers have been evaluating tablets and the results are now in," said Tim Coulling, Canalys senior analyst. "With touchscreens contributing to a high proportion of the build cost of a tablet, small-screen products can be priced very aggressively."
Apple's decline in market share is partly down to an ageing portfolio, Canalys says, with both the full-size iPad and iPad mini due updates in the next few months, along with their iOS operating system.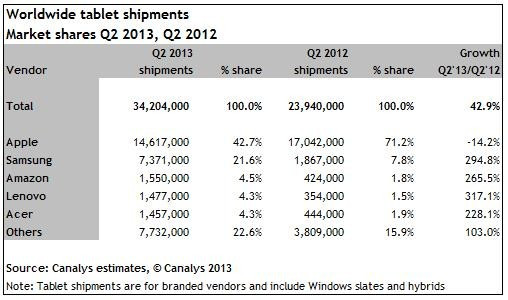 But even a range of updated products won't reverse the trend, says Canalys analyst James Wang. "When Apple does decide to refresh its iPad range it will not experience the buzz of previous launches. Tablets are now mainstream products and hardware innovation is increasingly difficult.
"With branded tablets available for less than $150 (£100), the PC market has never been so good for consumers, who are voting with their wallets."
Price war
Canalys says the shift to smaller tablets - some 68% of devices shipped in Q2 were smaller than 9in - has sparked a "price war" that will have long-lasting consequences across the sector.
Microsoft doesn't appear in Canalys' top five manufacturers, but Coulling expects the recently-discounted Surface RT to "fly off the shelves," adding: "Expect prices to continue to fall though, as the starting price of $350 is still too expensive to spark an HP TouchPad-style buying frenzy."
Although Android tablets are growing in popularity they still offer a comparative lack of tablet-optimised applications compared to iOS and its App Store. But Canalys expects this to change once developers realise the gains Android is making.
Quantity and quality
"Developers can and will quickly switch their priorities as different opportunities evolve and improve," said analyst Tim Shepherd. "We'd expect to see a substantial increase in the quantity, as well as the quality, of apps built or optimised for Android tablets over the next 12 months, as Google brings more attention to them through improvements to the Play store, and as the addressable base of devices continues to soar."
While this base of Android devices continues to soar, as does the catalogue of different devices running Google's software. A report earlier this week revealed there are almost 12,000 distinct Android devices in use around the globe, up from less than 4,000 this time last year.
This gives consumers unparalleled choice, but is a major headache for developers who have to ensure their applications work on a huge range of processors and screen sizes.