Just days after Kim Sears expletive-laden rant went viral, it seems Andy Murray is also having trouble keeping his temper under control.
As the Wimbledon champion lost sets in the Australian Open final today, his foul-mouthed outbursts were picked up by the on court microphones.
Murray appeared to have screamed s*** and f*** at in the final against Novak Djovokic, as he lost crucial points in the match. He even swore during a rally with the Serbian tennis star and as his frustration grew, he threw his racket to the ground.
After losing the third set 6-3 he shouted: "So unhelpful! So unhelpful!" in another expletive-laden tirade.
BBC commentators were forced to apologise to viewers for Murray's colourful language with many taking to Twitter to express their disgust.
A BBC spokesperson said: "This sometimes happens in live events, and our commentators apologised for any offence caused by the bad language heard."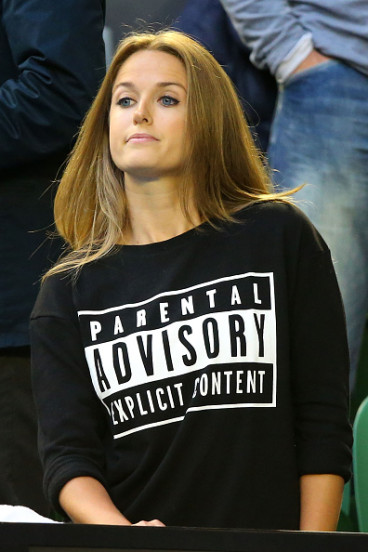 It was almost ironic that his fiancée Kim Sears was watching from the stands wearing a t-shirt with the message 'Parental Advisory: Explicit Content,' her response to the social media backlash following her earlier foul-mouthed rant during the semi-final match with Czech player Tomas Berdych.
The blonde has been dubbed 'Kim Swears' after she was apparently seen mouthing: "F*****g have that, you Czech flash f***" at Berdych.
Turns out her choice of T-shirt was appropriate as Murray lost his cool and crashed out of the final losing 7-6, 6-7, 6-3, 6-0.
Speaking after his defeat, Murray told the crowd: "I had amazing support again here and it's been probably my most consistent Grand Slam throughout my career. I haven't been able to win but the support I've had has been amazing.
"We put in a lot of hard work to try and get back in this position after what was a difficult year last year, and unfortunately couldn't quite do it tonight but I'm a little bit closer than I was a few months ago and I'll keep working hard to get there," he added.
Accepting the winner's trophy, Djokovic told Murray: "Tough luck tonight but you're a great competitor. You fight a lot. I also want to congratulate you and Kim on your engagement and wish you a wonderful wedding and many kids."
Among those watching the tense action in Melbourne's 15,000-seat Rod Laver Arena were One Direction singer Niall Horan, sports personalities and Aussie film stars Toni Collette and Eric Bana.